Kenya Polls Agency to Use Forms to Verify Results
This comes after National Super Alliance presidential candidate Raila Odinga questioned the authenticity of the results the Independent Electoral and Boundaries Commission (IEBC) has been streaming since the polls officially closed. The IEBC will also be making reference to Form 34As, which are the official presidential results declaration forms at the polling stations, reports say.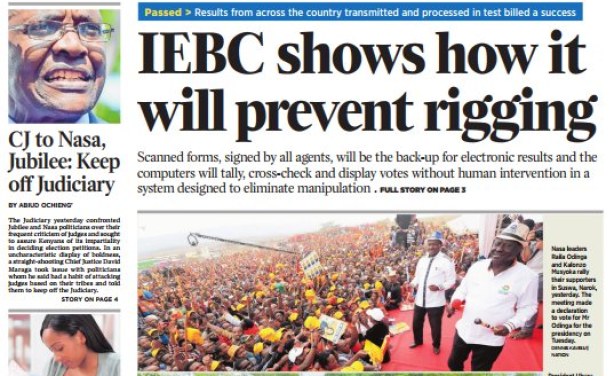 Daily Nation cover page.
InFocus
National Super Alliance presidential candidate, Raila Odinga, claims a hacker took control of the Independent Electoral and Boundaries Commission system - but the electoral ... Read more »

Nasa presidential candidate Raila Odinga has rejected provisional results by the Independent Electoral and Boundaries Commission. "We have our results and they don't match what ... Read more »

The live figures running on the electoral commission's results portal is giving President Uhuru Kenyatta of Jubilee a slight edge over his fierce challenger Raila Odinga of ... Read more »