Former Barcelona Football Stars Attend Mugabe Rally in Zimbabwe
After reportedly requesting to meet President Robert Mugabe, the visiting Dutch and Barcelona FC stars, Patrick Kluivert, Edgar Davids and Rayco Garcia joined the 93-year-old Mugabe on stage at one of his youth rallies in Gwanda.
Zimbabwe: All Set for Barcelona, Warriors Match

The Herald, 14 August 2017

The Ministry of Sport and Recreation, ZIFA and private players are working on a funding structure that will bring Barcelona Legends to play the Warriors in the first week of… Read more »

Zimbabwe: Dutch Football Legends At Mugabe Rally

New Zimbabwe, 13 August 2017

Visiting Dutch and Barcelona FC greats Edgar Davids, Patrick Kluivert and Rayco Garcia made a surprise appearance at the 6th Presidential Youth Rally in Gwanda Saturday. Read more »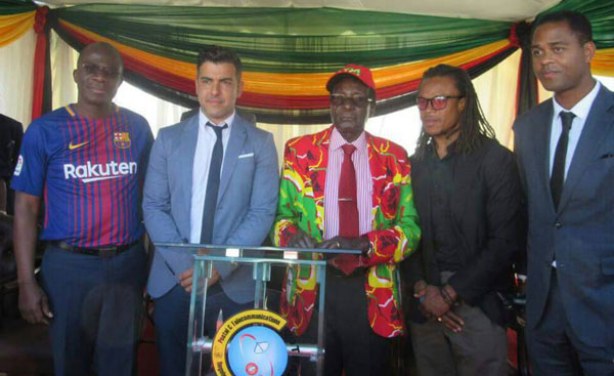 From left, Sports and Recreation Minister Makhosini Hlongwane, Rayco Garcia, President Robert Mugabe, Edgar Davids and Patrick Kluivert at the Zanu PF presidential youth interface rally in Gwanda.