Zimbabwe's Harare Carnival Makes a Return
The Harare International Carnival, which was shelved last year due to funding challenges, will be held this year. The carnival will run from the 1st to the 10th of September. South African socialite Zodwa Wabantu is set to be one of the star attractions in this year's edition when she joins Samba girls from Brazil and Cuban dancers.
Zimbabwe: Harare Carnival Spirit Is Here

The Herald, 14 August 2017

It is almost that time of the year again when the city centre becomes a hive of activity as hundreds of thousands of people walk down the streets of Harare celebrating the… Read more »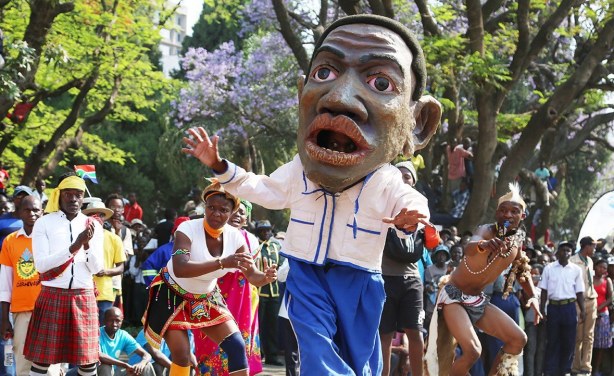 Carnival Street party.
Zimbabwe: Zodwa for Harare Carnival, Minister Orders the Socialite to Put On Her Undies

New Zimbabwe, 11 August 2017

South African socialite, Zodwa Wabantu, who made headlines last month after she performed wearing a short dress and without underwear at the Durban July Festival, is billed to be… Read more »

Zimbabwe: Harare International Carnival Lures Werrason

The Herald, 9 August 2017

After hosting Congolese rhumba giant Koffi Olomide at an exciting show during last year's Harare International Carnival, organisers of the annual fete are luring Werrason, another… Read more »

Zimbabwe: Name Your Price, Kaseke Asks Jah Prayzah

The Herald, 11 July 2017

Zimbabwe Tourism Authority chief executive officer Dr Karikoga Kaseke is determined to do anything to ensure that Jah Prayzah will be part of the performers pencilled to perform at… Read more »

Zimbabwe: Over 3 Million People Expected at Harare International Carnival

New Zimbabwe, 6 July 2017

The Harare International Carnival, which could not be held last year owing to financial constraints, is back this year after organizers, the Zimbabwe Tourism Authority, clinched a… Read more »

Zimbabwe: Harare International Carnival Returns

New Zimbabwe, 29 May 2017

The Harare International Carnival, which was shelved last year due to funding challenges, will be held this year, Zimbabwean Tourism Minister Walter Mzembi said on Monday. Read more »