Will Diplomatic Immunity, if Approved, Give Grace Mugabe a Pass?
Zimbabwe has requested diplomatic immunity for the First Lady Grace Mugabe, who faces a charge of criminal assault. Mugabe is accused of attacking 20-year-old model Gabriella Engels with an electrical extension cord after the model went to see the Mugabes' sons, Robert and Chatunga at a Sandton hotel. President Robert Mugabe, who is in South Africa to attend the SADC summit, is expected to intervene on the matter.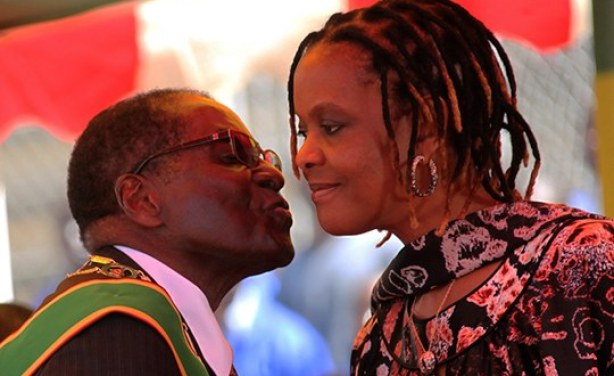 President Robert Mugabe kissing his wife Grace (file photo).
South Africa: 'Red Alert' for Grace Mugabe At Country's Borders - Police Minister

News24Wire, 17 August 2017

Police Minister Fikile Mbalula on Thursday said that police have put out a "red alert" at South African borders for Zimbabwean first lady Grace Mugabe, in case she attempted to… Read more »

South Africa: 'Impossible for Grace Mugabe to Have Diplomatic Passport'

News24Wire, 17 August 2017

It is impossible for Zimbabwean first lady Grace Mugabe to invoke diplomatic immunity if a diplomatic passport was not gazetted in advance of her trip, an international law… Read more »

Zimbabwe: Grace Mugabe Seeks Immunity in South Africa Assault Case

Al Jazeera, 16 August 2017

South African officials are debating whether to grant diplomatic immunity to Zimbabwe's first lady Grace Mugabe, who is accused of assaulting a 20-year-old model in Johannesburg… Read more »

South Africa: Police Clarify Issues Around Alleged Sandton Assault

SAnews.gov.za, 17 August 2017

The Ministry of Police on Wednesday clarified a number of issues around the confusion surrounding a prominent Zimbabwean woman. Read more »

Zimbabwe: Zimbabweans Livid Over First Lady Grace Mugabe

Deutsche Welle, 16 August 2017

The wife of President Robert Mugabe has claimed diplomatic immunity after being accused of assaulting a South African model. Many Zimbabweans have condemned her behavior. Read more »

Southern Africa: Mugabe Arrives for SADC Summit As Grace Seeks Diplomatic Immunity

News24Wire, 17 August 2017

President Robert Mugabe has arrived in South Africa for the 37th SADC Heads of State and Government Summit, as controversy surrounding his wife Grace continues, Zimbabwean… Read more »

Zimbabwe: Mugabe Has Lost Control Of His Family - Opposition

New Zimbabwe, 16 August 2017

President Robert Mugabe has "lost his voice" with which he used to insult Ndebele and Kalanga people who sought refuge in South Africa because of "crimes" committed by his family… Read more »
InFocus
Contrary to speculation that Zimbabwe's First Lady Grace Mugabe - who faces a charge of criminal assault - had fled to Harare, her whereabouts remain unknown. There has been ... Read more »

Gabriella Engels claims that she was assaulted by Grace Mugabe following an altercation at a Sandton hotel while she and some friends were "chilling" with President Robert Mugabe's ... Read more »