De-Listing of Kenya Human Rights Commission Suspended
Justice Chacha Mwita has issued the order following an application by the rights watchdog. NGO Coordination Board Executive Director Fazul Mahamed had issued a directive that KHRC's registration be cancelled.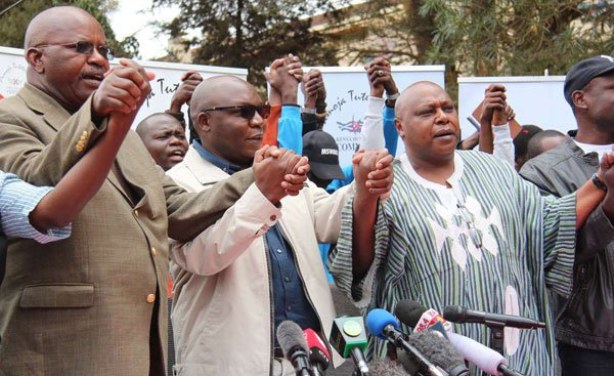 Kenyans for Peace with Truth and Justice board member Haron Ndubi (left) joins Kenya Human Rights Commission executive director George Kegoro and board member Maina Kiai at the human rights group's offices at Gitanga Road, Nairobi, to protest its de-registration by NGO Coordination Board.
Kenya: KHRC Takes Fazul Mahamed to Court

Nation, 21 August 2017

The Kenya Human Rights Commission (KHRC) has moved to court to challenge NGO Coordination Board's directive striking out its certificate of registration. Read more »

Kenya: Agencies Welcome Matiang'i's Move on NGOs

Nation, 17 August 2017

Two American elections observer groups have welcomed the decision by Acting Interior Cabinet Secretary Fred Matiang'i to suspend the clampdown on two civil society organisations. Read more »
InFocus
Acting Interior Cabinet Secretary Fred Matiangi has written to the Executive Director of the NGO Coordination Board Fazul Mahamed putting off further action against the Kenya Human ... Read more »

The commission was allegedly operating four illegal bank accounts - contravening the terms and conditions attached to the certificate of registration. Read more »