Who's Helping Sierra Leone After Deadly Mudslide?
Aid agencies are racing to provide food, shelter and healthcare to the homeless, and prevent outbreaks of dangerous water-borne diseases such as cholera and typhoid.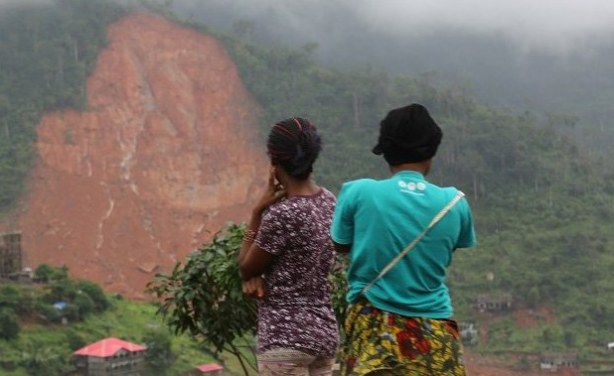 In Sierra Leone, mudslides have engulfed a whole community and Unicef is helping families affected. More than 400 people were killed, and 600 people are missing.
Sierra Leone: Secon Donates Le20 Million and 100 Beds

Concord, 21 August 2017

The CEO of SECON- Sean Papa Chendeka with the Safety Hat and the Minister of Internal Affair- Palo Konteh in the company of the Vice President- Victor B. Foe at Sugar Loaf, Regent. Read more »

Sierra Leone: China Donates $1 Million Dollars to Flood Victims in Sierra Leone

Concord, 18 August 2017

The Government of the People's Republic of China has donated One Million US Dollars to the Government and People of Sierra Leone as immediate response to the flooding and mudslide… Read more »

Sierra Leone: Kei Kamara Raises Over U.S.$ 861 for Mudslide & Flood Victims

Concord, 18 August 2017

In less than 24 hours, Sierra Leone and New England Revolution striker, Kei Kamara, has raised over U.S $861.23 for victims of the August 14 mudslide and flood disaster in Sierra… Read more »

Sierra Leone: Chinese Companies Donates U.S.$33,860 Food Items to Flood Victims

Concord, 21 August 2017

In responding to the call of President Ernest Bai Koroma to help in addressing the challenges brought by the mudslide and flood disaster in Freetown, August 14th, 2017, the Chinese… Read more »

Sierra Leone: Food Aid Reaches Thousands Devastated By Sierra Leone Mudslide

Thomson Reuters Foundation, 16 August 2017

"The mudslides have left a path of death and devastation" Read more »
InFocus
Sierra Leone has begun a week of mourning for the victims of the mudslide and flooding that devastated parts of capital Freetown. With 600 people still missing, aid groups say it's ... Read more »

When Idalia Amaya arrived at the scene of the mudslide that devastated Sierra Leone's capital Freetown, she was horrified to find homes washed away, entire villages engulfed by ... Read more »