Could Grace Mugabe Be Banned From South Africa?
The Congress of South African Trade Unions has called for the Department of International Relations and Cooperation to reverse its decision granting Grace Mugabe diplomatic immunity and wants her to be banned from coming to South Africa. Grace Mugabe, the wife of President Robert Mugabe, is accused of assaulting a 20-year-old model, Gabriella Engels, while on a visit to South Africa.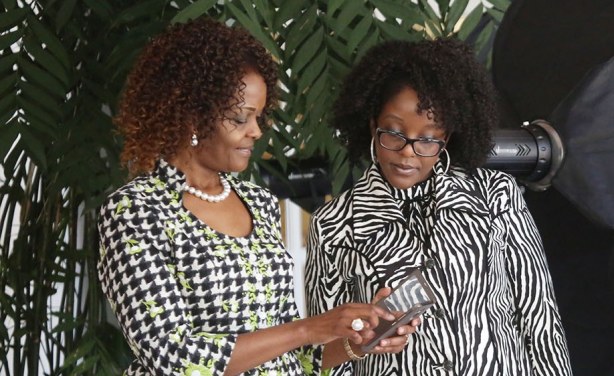 First Lady Grace Mugabe and daughter Bona (file photo).
South Africa: Hotel Worker Pushed by Mugabe's Son Loses Baby - Report

allAfrica, 21 August 2017

A pregnant waitress lost her baby after she was pushed by Robert Mugabe jnr at a Sandton hotel, according to TimesLive. Read more »

South Africa: South African Union Condemns Grace Mugabe's Pardon

Monitor, 22 August 2017

The Congress of South Africa Trade Unions (Cosatu) has slammed the government's decision to grant Zimbabwe's First Lady Grace Mugabe diplomatic immunity. Read more »

South Africa: Just How Powerful Is Grace Mugabe?

News24Wire, 22 August 2017

So Grace Mugabe, who is accused of assault in South Africa, is back home in Zimbabwe after she was granted diplomatic immunity by the Department of International Relations and… Read more »

South Africa: Grace Mugabe Dominates News Headlines

News24Wire, 21 August 2017

Zimbabwe's first lady Grace Mugabe dominated headlines last week with almost 45% of reports focusing on the alleged assault case. Read more »

South Africa: No Plans to Hold Foreign Affairs Minister to Account Over Grace Mugabe - Yet

News24Wire, 21 August 2017

There are no plans to call in Minister of International Relations and Co-operation (Dirco) Maite Nkoana-Mashabane before Parliament just yet, portfolio committee chairperson… Read more »

South Africa: Grace Mugabe Granted Immunity

SAnews.gov.za, 21 August 2017

International Relations and Cooperation Minister Maite Nkoana-Mashabane has granted immunity to Zimbabwe First Lady Dr Grace Mugabe. Read more »

South Africa: Commission for Gender Equality On Gender Based Violence in South Africa

Govt of SA, 18 August 2017

At its quarterly Plenary meeting held on the 16- 18 August, 2017, in Johannesburg, the Commission for Gender Equality (CGE), reflected on a number of recent incidents of violence… Read more »
InFocus
The Zimbabwe Broadcasting Corporation reported that the First Lady was part of an official delegation to a Southern African Development Community leaders' summit which landed at ... Read more »

Lobby group Afriforum, now representing 20-year-old alleged victim Gabriella Engels, says she had been offered a bribe to sweep the matter under the carpet. Meanwhile, Police ... Read more »