Pentagon Approves U.S. Congress of Weapon Sale to Nigeria
The Pentagon has notified the U.S. Congress of the approval of a sale 12 Super Tucano A-29 planes and weapons worth U.S.$593 million to Nigeria for its fight against Boko Haram. The sale was discussed in Abuja during a meeting between a visiting Congressional delegation and senior Nigerian lawmakers, where the issue of humanitarian crisis in the Northeast was discussed.The delegation, led by Sen. Chris Coons (D-CO) traveled to the troubled region during their trip.
Nigeria: Nigeria's Super Tucano Jets Include Guided Bombs, Rockets

Vanguard, 7 September 2017

Paveway 11 guided bombs, laser-guided rockets and infrared sensors are being sold to Nigeria by the United States government, along with the 12 Super Tucano fighter jets, expected… Read more »

Nigeria: U.S. Pledges More Support to End Boko Haram

Daily Trust, 30 August 2017

The United States Congregational Delegation yesterday assured the Nigerian government of increasing technical support to end the Boko Haram crises in the Northeast. The leader of… Read more »

Nigeria: Govt Thanks U.S. for Decision to Sell Aircraft to Fight Insurgency

This Day, 30 August 2017

Almost a month after the United States approved the sale of 12 A-29 Super Tucano aircraft to Nigeria, Vice-President Yemi Osinbajo has conveyed Nigeria's gratitude to the American… Read more »

Nigeria: U.S. Agrees to Sell Arms to Fight Insurgency, Says Saraki

Guardian, 29 August 2017

The U.S. Government for the first time has agreed in principle to sell arms to help in the fight against insurgency in the country.The Senate President, Abubakar Bukola Saraki,said… Read more »
Video
Publisher:

Office of Senatgor Coons

Publication Date:

30 August 2017

U.S.Senator Chris Coons speaking during a visit to Nigeria of a Congressional delegation. see more »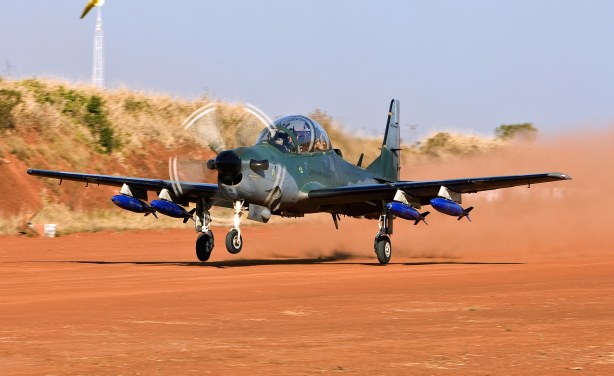 A-29 Super Tucano (file photo).
Nigeria: U.S. Lawmakers Meet Osinbajo, Saraki, Dogara Over North-East Crisis

Vanguard, 29 August 2017

As the humanitarian crisis thrown up by eight years of Boko Haram war lingers, a congressional delegation from the United States of America, USA, is meeting with Vice President… Read more »

Nigeria: Pentagon Notifies U.S. Congress Over Sale of Weapons Worth of $593M to Nigeria

Vanguard, 28 August 2017

The Pentagon has notified the U.S. Congress of the sale to Nigeria of 12 Super Tucano A-29 planes and weapons worth $593 million, needed for the fight against the militant group,… Read more »

Nigeria: Pentagon Notifies U.S. Congress of Sale of 12 Fighter Aircraft

This Day, 29 August 2017

The U.S. Department of Defence has notified its Congress of the sale of 12 Super Tucano A-29 planes and weapons worth $593 million to Nigeria for the fight against Boko Haram. Read more »

Nigeria: Osinbajo Meets U.S. Lawmakers Over Security Challenges

Premium Times, 29 August 2017

The Buhari administration has reached out to the U.S. government to step up its assistance in ensuring that corrupt officials don't get a safe haven abroad for their loot, Vice… Read more »

Nigeria: U.S. Committed to Enabling Environment for Nigerian Businesses - Ambassador

Vanguard, 29 August 2017

The United States yesterday said it is committed to supporting the federal government to create enabling environment for Nigerian businesses to enhance job creation for the… Read more »
InFocus
The U.S. government has approved a U.S.$600 million sale of high-technology attack planes and equipment to Nigeria. The U.S. hopes to aid Nigeria in their fight against Boko Haram ... Read more »

Nigerian Defence Headquarters has reacted to a United States State Department report on counter-insurgency efforts against Boko Haram terrorists in the north-east. Read more »

U.S. President Donald Trump's administration has agreed to sell high-tech aircraft to Nigeria for its campaign against the armed group Boko Haram. Read more »