Osinbajo to Lead Strike Negotiations with Academic Union
The Academic Staff Union of Universities, on August 13, began a nationwide strike over the failure of the government to implement an agreement it reached with the union in 2009. ASUU has been protesting against poor funding of universities and other related matters affecting the welfare of its members.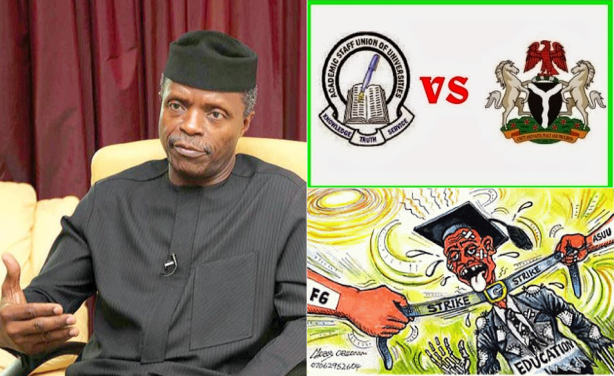 ASUU Strike - Osinbajo to lead govt negotiation team.
Nigeria: ASUU Strike - FEC Appoints Osinbajo As 'Chief Negotiator'

Guardian, 30 August 2017

The Federal Executive Council (FEC) has assigned Vice-President Yemi Osinbajo to henceforth chair the concluding part of the ongoing negotiation between the Federal Government and… Read more »

Nigeria: Osinbajo Takes Over FG's Team in Talks With ASUU

Guardian, 31 August 2017

President Muhammadu Buhari yesterday appointed Vice President Yemi Osinbajo to lead the Federal Government's team to negotiate with the striking Academic Staff Union of… Read more »

Nigeria: Osinbajo to Lead Negotiations With ASUU

Leadership, 31 August 2017

The minister of Labour And Productivity, Chris Ngige has disclosed that Vice President Yemi Osinbajo will lead the federal government negotiation team with the Academic Staff Union… Read more »

Nigeria: We 'Re Waiting to Hear From Govt - ASUU

Vanguard, 30 August 2017

AS the Vice President, Prof. Yemi Osinbajo takes over the negotiation team of the Federal Government in the ongoing negotiation with the striking Academic Staff Union of… Read more »

Nigeria: Buhari Presides Over FEC, Osinbajo Takes Charge of ASUU Negotiations

This Day, 31 August 2017

For the first time in five months, President Muhammadu Buhari presided over the meeting of the Federal Executive Council (FEC) Wednesday at the Presidential Villa, where he was… Read more »
InFocus
The Academic Staff Union of Universities has withdrawn from the scheduled meeting with the government to resolve the ongoing strike, until it gets a response for its counter ... Read more »

The Academic Staff Union of Universities, an umbrella body of all university lecturers in the country, is currently on strike over the federal government's failure to fulfil its ... Read more »