Rwanda Set For Baby Mountain Gorilla Naming
19 baby gorillas are to be named as part of continuing conservation efforts for the endangered species. The week-long event includes a variety of conservation-awareness activities, with government leaders, park staff, local groups, students, celebrities and communities all joining in to help choose names for gorillas born in the past year.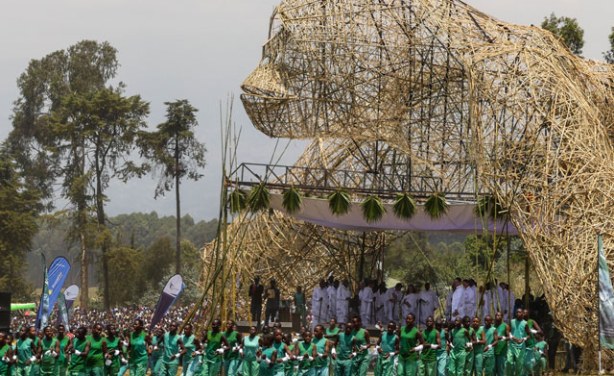 2016 Kwita Izina naming ceremony.
Rwanda: All Set for Kwita Izina, Gorilla-Naming Celebration

Independent (Kampala), 30 August 2017

Naming infant mountain gorillas has become an important annual nationwide tradition in Rwanda since 2004. The naming ceremony, called Kwita Izina and organized by the Rwandan… Read more »

Rwanda: Over 500 Turn-Out for Kwita Izina Gala Dinner

New Times, 28 August 2017

At least 500 tickets were sold out for the annual Kwita Izina Gala Dinner held on Saturday night at the Kigali Convention Centre, according to Belise Kariza, Chief Tourism officer… Read more »

Rwanda: RDB Seeks to Expand Gorilla Habitat as Numbers Shoot Up

New Times, 25 August 2017

Kwita Izina, the annual gorilla naming ceremony, has been around for more than a decade now and with it has come continued education and awareness, not only locally but also on the… Read more »

Rwanda: Rwanda Seeks to Raise More Funds to Support Gorilla Conservation

New Times, 23 August 2017

The second edition of the 'Kwita Izina' Gala Dinner will take place on August 26 ahead of the official 13th Gorilla Naming ceremony slated for September 1 in Musanze District,… Read more »