Kenyatta Threatens to 'Deal With' Judiciary if Re-Elected
President Uhuru Kenyatta and his deputy William Ruto have reportedly threatened to "deal with" the Judiciary should they be re-elected in an election. In a historic ruling and a first in Africa, Kenya's Supreme Court nullified the president's re-election victory, citing irregularities, and ordered a new vote within 60 days.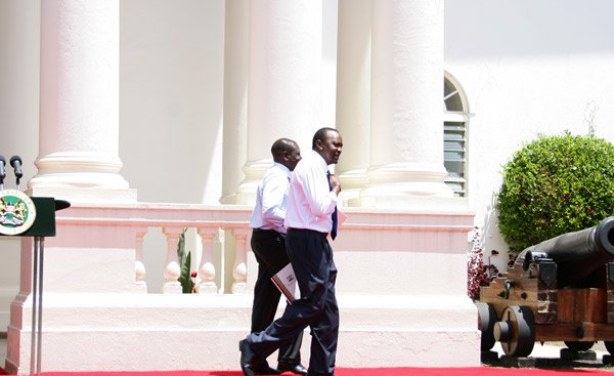 President Uhuru Kenyatta (right) with his Deputy William Ruto.
Kenya: Poll Body's Credibility in Question

East African, 2 September 2017

Kenya's electoral body is now in the spotlight following the nullification of the presidential election by the Supreme Court, which also ordered fresh polls. Read more »

Kenya: Kenyatta Lashes Judges for Ordering Election Re-run

East African, 2 September 2017

Tough-talking President Uhuru Kenyatta and his deputy William Ruto on Saturday hit out at the Supreme Court, questioning the reasoning of their nullification of their win. Read more »

Kenya: Election Chair Says He Won't Resign, Open to Probe

East African, 1 September 2017

The chairperson of Kenya's electoral commission, Wafula Chebukati, has absolved himself from any responsibility in the wake of the Supreme Court's decision to annul the… Read more »

East Africa: Will Kenya's Court Ruling On Poll Results Set Precedent in Region?

East African, 2 September 2017

The nullification of Kenya's presidential election is unprecedented in Africa and legal experts say it may have a significant bearing on presidential election petitions in the… Read more »

Kenya: Deputy President Ruto Tells Elections Body to Set Poll Date

Nation, 2 September 2017

Deputy President William Ruto has asked the Independent Electoral and Boundaries Commission (IEBC) to set election date, saying Jubilee Party is ready for a repeat poll. Read more »

Kenya: It's Back to the Ballot As Supreme Court Nullifies Uhuru's Win

Capital FM, 1 September 2017

The Supreme Court on Friday ordered the Independent Electoral and Boundaries Commission to conduct a fresh presidential election within 60 days after finding that the August 8 poll… Read more »

Kenya: Odinga Targets Chebukati and Team After Supreme Court Victory

Capital FM, 1 September 2017

National Super Alliance (NASA) presidential candidate Raila Odinga has said they will pursue prosecution of electoral commission officials, following the annulment of the August 8… Read more »

Kenya: The Young Faces in Kenya's New Political Arena

Nation, 31 August 2017

On August 8 this year, Kenyans participated in the general election, the second under the new constitution. In many counties, new leaders were elected, rendering the old ones… Read more »

Kenya: The Kenyan Elections Teach Us to Expect the Unexpected

Deutsche Welle, 1 September 2017

A Supreme Court decision to hold new elections - that's something that nobody expected. Possibly not even Kenya's opposition, which had initially ruled out the possibility of… Read more »
InFocus
Uhuru Kenyatta has called on citizens to maintain peace, and vowed to beat his contender Raila Odinga at the ballot after the Supreme Court's call for new polls. Odinga, however, ... Read more »

A six-judge bench, by majority decision, has found that the Independent Electoral and Boundaries Commission failed to conduct the polls according to the Constitution and Elections ... Read more »