Call Rights Activist Sagay To Order, Nigerian Senate Tells Buhari
The Senate has accused the chairman of the Presidential Action Committee on Anti-Corruption, Professor Itse Sagay, of spreading falsehoods about the National Assembly. The latest wrangling followed a claim by Sagay that the salary of a Nigerian senator was U.S.$1.7 million per annum, well above the U.S.$400,000 annual salary of President of the United States.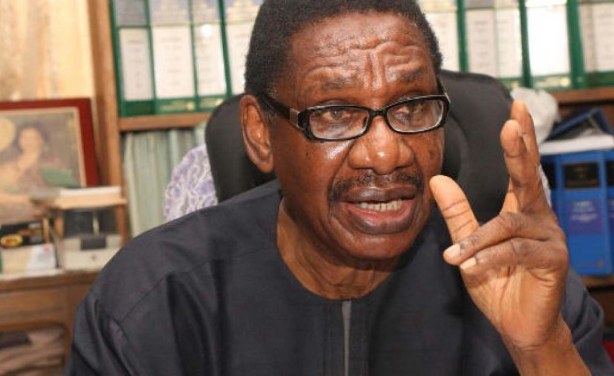 Professor Itse Sagay.
Nigeria: Senate Asks Buhari to Restrain Sagay From Attacking National Assembly

Guardian, 8 September 2017

The Senate has urged President Muhammadu Buhari to rein in the chairman of the Presidential Action Committee on Anti-Corruption (PACAC), Professor Itse Sagay, whom it accused of… Read more »

Nigeria: Sagay Again Hits Senate, Says We Are the Ones Buying Clothes for Them to Wear

Vanguard, 8 September 2017

The Senate, yesterday, charged President Muhammadu Buhari to caution chairman of the Presidential Advisory Committee on Anti-Corruption, PACAC, Professor Itse Sagay, who it… Read more »

Nigeria: Caution Sagay Over Hate Speech Against NASS, Senators Tell Buhari

Leadership, 8 September 2017

The Senate has urged President Muhammadu Buhari to call the Chairman, Presidential Action Committee on Anti-Corruption (PACAC), Prof. Itse Sagay, to order over falsehood against… Read more »

Nigeria: Senate, Sagay At War Again Over Lawmakers 'Jumbo' Pay

Premium Times, 7 September 2017

The Senate and its serial critic, Itse Sagay, are sparring again. Read more »

Nigeria: We Must Stop Senators' Bumper Pay - Prof Sagay

Vanguard, 7 August 2017

Chairman of the Presidential Advisory Committee Against Corruption, Professor Itse Sagay, has lamented the prevailing situation in which he said senators enjoy the powers to… Read more »