Kenya's Opposition Ready for Polls Despite Concerns
The National Super Alliance presidential candidate Raila Odinga insists the October 17 election must be managed by a different team from the one accused of ruining the previous one. He has accused Uhuru Kenyatta and the Jubilee Party of having stolen the just nullified presidential elections.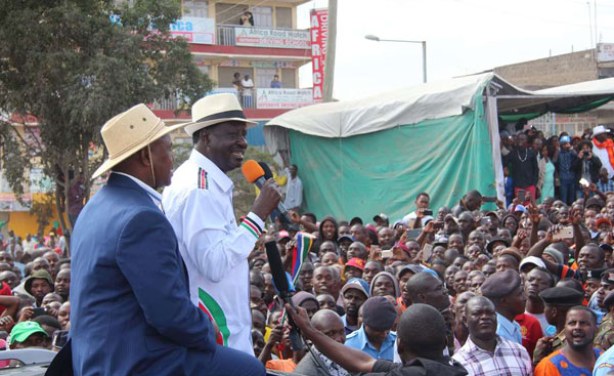 Nasa presidential candidate Raila Odinga with former Kajiado Governor David Nkedianye (left) during a campaign rally in Kitengela, Kajiado County.
Kenya: Ruto - Candidates Will Sit for Their Exams As Scheduled

Nation, 11 September 2017

Deputy President William Ruto has said candidates will sit their national examinations as scheduled despite the Supreme Court order for a repeat presidential election. Read more »

Kenya: Kenyatta - Odinga Should Let Us Be Sworn in If Not Ready for Poll

Nation, 10 September 2017

President Kenyatta has told Nasa flagbearer Raila Odinga to quit the repeat election if he is not ready to participate in the poll managed by the current electoral commission. Read more »

Kenya: Jubilee's Theft of Our Votes Derailing Us, Claims Odinga

Nation, 9 September 2017

Nasa presidential candidate Raila Odinga has claimed the Jubilee Party was derailing their projects by stealing the August 8 election. Read more »

Kenya: Odinga's Inability to Steal to Blame for Repeated Poll Losses

Nation, 9 September 2017

You cannot keep on losing elections and blaming it on thieves. Right-thinking individuals must wonder why you never steal elections for your benefit. You cannot be always unlucky,… Read more »

Kenya: Kenyatta Scoffs at Odinga in Race for Presidency

Nation, 9 September 2017

President Uhuru Kenyatta on Saturday said the opposition had schemed a misfortune for the country by misleading the Supreme Court to nullify his victory. Read more »

Kenya: Odinga Planned Misfortune for Country but We Disappointed Him, President Kenyatta Says

Kenya Presidency, 9 September 2017

President Uhuru Kenyatta today said the opposition had schemed a misfortune for the country by misleading the Supreme Court to nullify his victory which was clear to all Kenyans… Read more »

Kenya: Petition Showed Presidential Poll Last Month Was a Criminal Venture

Nation, 8 September 2017

Shortly after the Supreme Court nullified President Uhuru Kenyatta's election, I came across a post on social media by a citizen journalist in Kitengela narrating how National… Read more »

Kenya: Nasa Defends Drive to Raise Campaign Cash

Nation, 8 September 2017

National Super Alliance leader Raila Odinga has defended the coalition's call for donations to finance its campaigns ahead of the repeat presidential poll on October 17. Read more »
InFocus
National Super Alliance's lawyers are in the process of furnishing the office of the Director of Public Prosecutions with material seeking to show how top Independent Electoral and ... Read more »

In invalidating the presidential election, the Supreme Court made a brave decision not to commit to the rule of law. This historic ruling is also evidence of the strides the ... Read more »

The ruling Jubilee and main opposition National Super Alliance has refused to accept the appointment of a new team to manage the repeat presidential elections. Independent ... Read more »