Does Zimbabwe Need Wide Reforms to Have Credible Elections?
Zimbabwe's Constitution requires it to hold elections by July 2018. It seems unlikely that the country's political system will be reformed in time to ensure the election is free and fair. The opposition will therefore be at a disadvantage again. It seems to have abandoned its calls for reform and is focusing on building coalitions, writes Enock C. Mudzamiri for The Conversation Africa.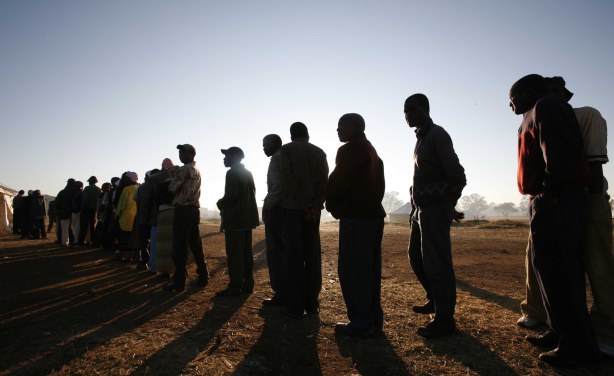 Election day (file photo).
Zimbabwe: Opposition 'Takes Mugabe to Court' - Report

News24Wire, 13 September 2017

Zimbabwe's main opposition, the Movement for Democratic Change (MDC) led by Morgan Tsvangirai, has launched a court challenge against President Robert Mugabe's recent declaration… Read more »

Zimbabwe: Govt Gives 90-Day Waiver for Civil Documents

The Herald, 14 September 2017

Government has waived all charges required to acquire civil documents such as identification cards or birth certificates during the 90-day registration blitz by the office of the… Read more »

Zimbabwe: New Voters' Roll Crafting Begins

The Herald, 14 September 2017

The Zimbabwe Electoral Commission (ZEC) starts crafting a new voters' roll today as 2018 harmonised elections draw closer. Read more »

Zimbabwe: Dozens Undergo Biometric Voter Registration Training

The Herald, 13 September 2017

At least 70 district election officers and technicians in Mashonaland West Province have undergone training on Biometric Voter registration. This is in preparation for the actual… Read more »

Zimbabwe: Tsvangirai Sues Mugabe Over Voter Registration Dates

New Zimbabwe, 12 September 2017

The Morgan Tsvangirai led MDC has filed an urgent chamber application with the High Court seeking the reversal of the voter registration proclamation dates by President Robert… Read more »

Zimbabwe: Elections Boss Makarau Clarifies Voter Registration

The Herald, 12 September 2017

The Zimbabwe Electoral Commission (ZEC) has allayed fears that voter registration will end on January 15, saying President Mugabe's proclamation which mentioned the date sought to… Read more »

Zimbabwe: MDC Alliance Gives People Hope

263Chat, 14 September 2017

Zimbabwe is a country that has been beset with unimaginable problems that one would not expect from a modern state endowed with vast resources. These resources are both human and… Read more »

Zimbabwe: Opposition Double Standards Exposed

The Herald, 12 September 2017

Attempts by MDC-T to discredit Zimbabwe Electoral Commission (ZEC) chairperson Justice Rita Makarau for holding three key offices, including being a Supreme Court judge and… Read more »