High-Level Forum Examines U.S.-Africa Policy Shifts #USAfrica17
The United States Institute for Peace, a nonpartisan governmental organization in Washington, DC, convened a day-long seminar on September 13 to examine 'U.S.-African Partnerships: Advancing Common Interests'. Speakers included the U.S. Undersecretary of State, Thomas Shannon, and General Thomas Waldhauser, the Africom Commander.
Participants from Africa included Michelle Ndiaye from the Institute for Peace and Security Studies, Yvonne Akoth from Impart Change, Moeletsi Mbeki from the South African Institute of International Affairs, Kingsley Moghalu from the Institute for Governance and Economic Transformations, Emmanuel Kwesi Aning from the Kofi Annan International Peacekeeping Training Centre, former Tanzanian Ambassador Liberata Mulamula and Victor Ochen from the African Youth Initiative Network.
Video
Publisher:

Publication Date:

14 September 2017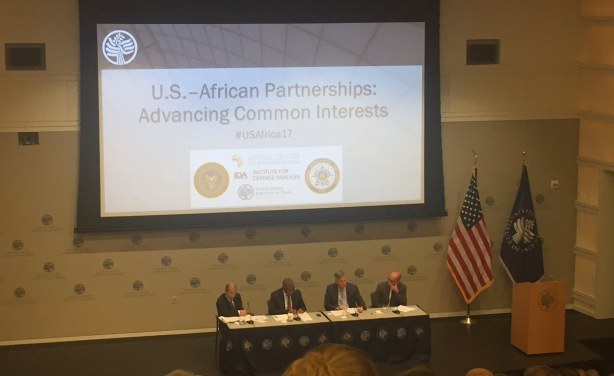 #USAfrica17 discussions at the U.S. Institute of Peace.