Uganda is a Laughing Stock, MP Bobi Wine Tells Museveni
Kyaddondo East Member of Parliament Robert Kyagulanyi Sentamu - popularly known as Bobi Wine - has attacked ruling party MPs who want to amend the constitution. In an audio message that has gone viral on social media, Kyagulanyi, says the MPs' proposed resolution to remove age limits from the constitution is aimed at making Yoweri Museveni a president for life.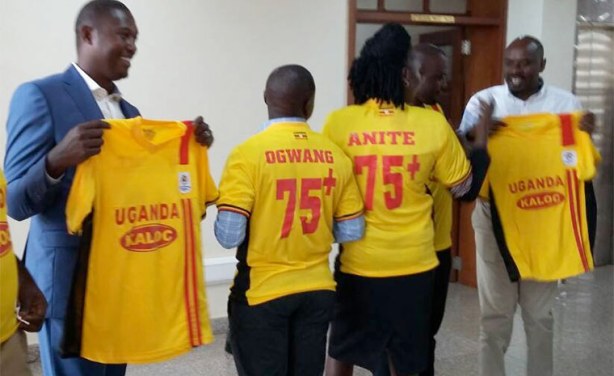 Ruling party MPs dressed in T-shirts showing support for the lifting of the age limit.
Uganda: NRM Strategists Give Reasons to Scrap Age Limit Cap

Observer, 15 September 2017

NRM lawyers, strategists and MPs have penned a 13-page research paper in which they outline at least 10 reasons why the presidential age limits in the constitution must be… Read more »

Uganda: Bullish Anti-Age Limit MPs 'Will Not Be Intimidated'

Observer, 15 September 2017

Following a public backlash and threats from opposition and NRM 'rebel' MPs to block any move by NRM lawmakers to table a bill seeking to remove presidential age limits, the… Read more »

Uganda: It's Our Fight for Uganda's Future

Observer, 15 September 2017

On Tuesday, the ruling National Resistance Movement (NRM) parliamentary caucus resolved to press on with the nefarious plot of further entrenching Yoweri Museveni's… Read more »

Uganda: 'Do Not Intimidate Us, We Have the Support of the Army'

Independent (Kampala), 15 September 2017

A section of NRM MPs behind the proposed amendment of article 102 of the constitution to lift the age limit of the presidency have said they will not be intimidated by anyone,… Read more »

Uganda: Museveni - Age Removal Activists Are Volunteers

Observer, 15 September 2017

On Wednesday, September 13, President Museveni spent about four hours at State House Entebbe with journalists, discussing, among other things, the controversial Constitution… Read more »

Uganda: Besigye Rallies Voters Against Lifting of Age - Limit

Monitor, 14 September 2017

Former presidential candidate Dr Kizza Besigye has urged voters in Bugisu region to compel their Members of Parliament from supporting the removal of presidential age limit. Read more »

Uganda: MPs Are Free to Debate Age-Limit, Says Museveni

Monitor, 14 September 2017

A day after a joint caucus of NRM and Independent MPs passed a resolution to move a motion in Parliament today paving the way for the introduction of a Bill to amend Article 102(b)… Read more »
InFocus
A least eight legislators have vowed to block attempts by their colleagues to have the 75-year presidential age limit cap lifted. This comes after ruling party MPs and their allies ... Read more »