Firing of Striking Kenya Nurses Begins
The health workers, whose strike has entered its third month, are calling for improved pay, better working conditions, as well as promotions. Kirinyaga and Kiambu counties have put up notices calling on interested candidates to apply for positions previously held by nurses who are on strike.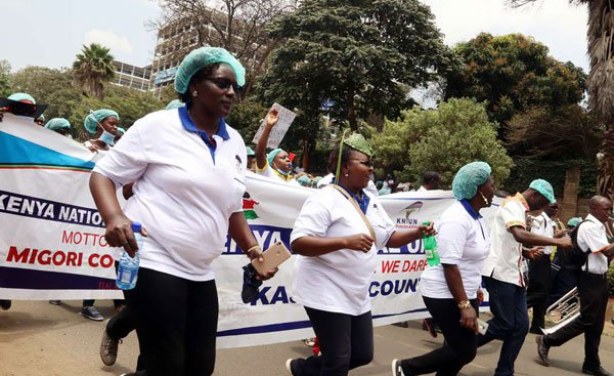 Striking nurses protest outside Afya House in Nairobi.
Kenya: Pupil, New Mothers Hit Hard By Nurses' Strike

Nation, 17 September 2017

A Class Eight pupil in a Kisii school is among eight women forced into a congested ward at Christa Marriane Hospital because they have nowhere else to go. Read more »

Kenya: Kenya National Union of Nurses Asks SRC to Treat Nurses as Professionals

Nation, 14 September 2017

Nurses have remained adamant that they will not resume duty even as governors threaten to sack them. Read more »

Kenya: We're Ready for Talks, Nurses' Association Tells Governors

Nation, 13 September 2017

The National Nurses Association of Kenya (NNAK) has asked the Council of Governors to consider dialogue with striking nurses before resorting to other disciplinary measures. Read more »

Kenya: We Won't Be Cowed By Threats, Say Nurses

Nation, 12 September 2017

Nurses have vowed to continue with their job strike until their grievances are addressed, saying they will not be cowed by threats to sack them. Read more »

Kenya: Nurses' Strike Forces Patients to Seek Treatment in Tanzania

Nation, 12 September 2017

People in need of medical services in Taita Taveta and Kwale counties are now trooping to Tanzania seeking for treatment after medical services in most public hospitals at the… Read more »

Kenya: Nurses Snap at COG - We've Been Sacked 10 Times Before

Capital FM, 11 September 2017

The Kenya National Union of Nurses striking members resorted to witty placards, dance, songs, selfie sticks and wearing theatre caps and masks to communicate their message on… Read more »

Kenya: Council Orders Governors to Replace Striking Nurses

Nation, 10 September 2017

The Council of Governors (CoG) wrote to the county bosses asking them to advertise positions held by any nurses in their regions who did not report for duty on Friday. Read more »

Kenya: Pay Us in 10 Days or We Strike, Clinical Officers Tell Counties

Nation, 6 September 2017

Clinical officers have given county governments a 10-day ultimatum to pay their outstanding salaries or face a strike. Read more »

Kenya: Nurses Defy Court Order as Strike Continues

Nation, 5 September 2017

Nurses have defied a court order to end their strike. Read more »

Kenya: Nurses' Union Boss On the Spot in Dispute Over Dues

Nation, 4 September 2017

Kenya National Union of Nurses (Knun) Secretary-General Seth Panyako is on the spot for failing to pay the union's chairman his dues as directed by the court. Read more »

Kenya: Court Declares Nurses' Strike Illegal

Nation, 1 September 2017

The Employment and Labour Relations Court on Friday declared the nurses' strike illegal. Read more »
InFocus
The governors have taken a hardline decision, threatening to sack nurses who do not return to work by September 8. The Employment and Labour Relations Court has also affirmed the ... Read more »

The strike has seen the suspension of in-patient services in most public hospitals, forcing patients to go to private facilities. Nurses are protesting against the ... Read more »

Nurses have cited frustration with the government's non-implementation of the Collective Bargaining Agreement deal made with both the national and county governments in June. They ... Read more »