What Goes Around Comes Around, Mujuru Tells Mugabe's Deputy
The opposition National People's Party leader Joice Mujuru is probably rubbing her hands in glee as she watches Vice President Emmerson Mnangagwa, who took part in her ouster, suffer the same fate as hers. In 2014 Mujuru was accused of plotting to topple President Robert Mugabe and Mnangagwa is now facing similar charges that could see him go the same way.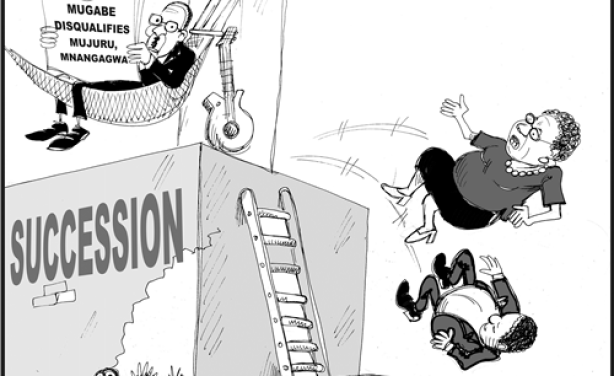 The battle to succeed the 93-year-old President Mugabe intensifies.
Zimbabwe: 'It's Time to Resign,' Mugabe's VP Mnangagwa Told

News24Wire, 19 September 2017

Zimbabwe's former vice president Joice Mujuru has advised under fire Deputy President Emmerson Mnangagwa to quit following recent attacks by President Robert Mugabe and his wife… Read more »

Zimbabwe: New Prosecutor-General Faces Axe

Zimbabwe Standard, 17 September 2017

Vice-President Emmerson Mnangagwa faces another reversal on his political career after a red flag was raised over the appointment of Ray Goba as the new prosecutor-general (PG)… Read more »

Zimbabwe: Mnangagwa Faction Reaches Out to Dabengwa

New Zimbabwe, 15 September 2017

THE Zanu PF faction linked to vice president Emmerson Mnangagwa has approached opposition leader, Dumiso Dabengwa, offering him a role a "new government", it has emerged. Read more »

Zimbabwe: Mugabe's VP Mnangagwa 'Won't Be Pressured to Quit' - Report

News24Wire, 15 September 2017

Zimbabwean Vice President Emmerson Mnangagwa "will not be pressured to quit" his positions in both government and Zanu-PF, despite attacks against him from a factional group within… Read more »

Zimbabwe: War Veterans in Anti-Mugabe Election Campaign

New Zimbabwe, 13 September 2017

The Zimbabwe National Liberation War Veterans' Association (ZNLWVA) has launched an anti-President Robert Mugabe campaign, saying they will be identifying any progressive… Read more »

Zimbabwe: Grace Mugabe Confronts VP Mnangagwa

Zimbabwe Independent, 8 September 2017

Fiery First Lady Grace Mugabe on Wednesday confronted under siege Vice-President Emmerson Mnangagwa at a tense Zanu PF politburo over claims he was recently poisoned at the party's… Read more »