'Terror Groups Pose Biggest Threat to Kenya's Security'
National Intelligence Service Deputy Assistant Director Alexander Muteshi says threats are propagated by terrorist organisations like the Al-Shabaab that has its cells in neighbouring Somalia and the Islamic State group that operates in Puntland, Libya, Syria and Iraq. He has pointed out that the threats have been pushed away from the cities to the border areas.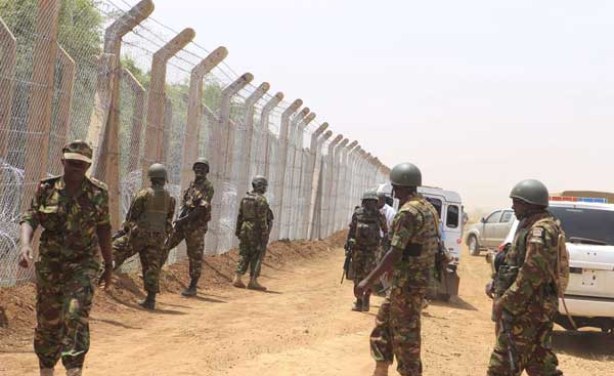 Kenyan soldiers on guard as the erection of a security fence along the Kenya-Somalia border goes on.
Kenya: Four Beheaded By Suspected Al-Shabaab Attackers in Lamu Buried

Nation, 14 September 2017

A sombre mood engulfed Bobo and Uziwa villages in Lamu West on Tuesday evening as the four men butchered by suspected Al-Shabaab militants at Silini-Mashambani and Bobo in Hindi… Read more »

Burundi: Kenya Arrests Burundi Nationals While Headed to Join Al-Shabaab

Shabelle, 12 September 2017

Four Burundi nationals were Tuesday morning arrested at Merile area along Isiolo-Marsabit Highway, Isiolo County while headed to Somalia to join Al-Shabaab militia. Read more »

Kenya: AP Officer Dies, 6 Hurt After Car Runs Over IED in Lamu

Nation, 11 September 2017

An Administration Police officer has died with six others being injured after a vehicle they were travelling in ran over a homemade bomb in Mararani, Lamu County. Read more »

Kenya: Security Agents Destroy 3 Al-Shabaab Camps in Boni Forest

Nation, 12 September 2017

Officers conducting the ongoing multi-agency security Operation Linda Boni in Lamu have discovered and destroyed three key Al-Shabaab hideouts at Lango la Simba in Witu Division of… Read more »

Kenya: Police on Red Alert in Mandera As Al-Shabaab Attack Bullahawa

Nation, 11 September 2017

Police in Mandera town are on a red alert after Al-Shabaab attacked and routed security officers out of Bullahawa, a neigbouring township in Somalia. Read more »

Somalia: U.S. Warns Citizens to Avoid Travel to Somali-Kenyan Border

Shabelle, 10 September 2017

The U.S. Department of State warns U.S. citizens to avoid travel to the border area between Somalia and Kenya because of threats by the terrorist group al-Shabaab. Read more »
InFocus
A confidential police report has said that a number of Kenyans fighting for Al-Shabaab in Somalia want to return home after a fallout within the militia. Read more »

Kenya police say the man killed is Hussein Said Omar, one of the Al-Shabaab militants behind the Mpeketoni attack that claimed the lives of more than 60 people in June 2014 Read more »

Police say the attackers also torched three houses in Witu, Lamu County. This comes after the government banned the use of the Lamu-Garsen highway by passenger vehicles due to ... Read more »