How Much Does A Nigerian Senator Earn?
The Senate President Bukola Saraki has agreed to meet with the Socio-Economic Rights and Accountability Project's representatives to discuss issues relating to details of annual salaries and allowances of senators. This comes after a claim by rights activists Itse Sagay that the salary of a Nigerian senator was U.S.$1.7 million per year.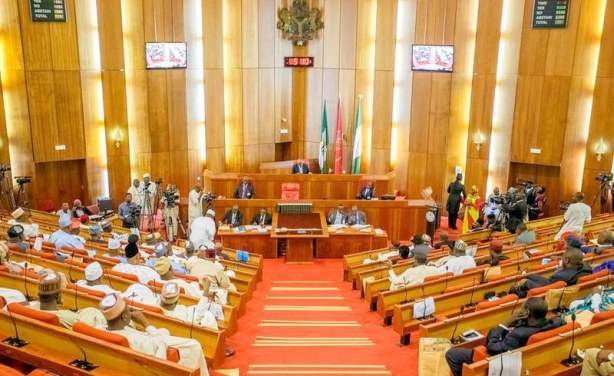 The Nigerian Senate (file photo).
Nigeria: Saraki Agrees to Meet Serap Over Lawmakers' N29m Monthly Pay

Vanguard, 20 September 2017

The Senate President, Dr Bukola Saraki has agreed to meet with the Socio-Economic Rights and Accountability Project (SERAP) at the National Assembly to explicate to Nigerians if it… Read more »

Nigeria: SERAP to Meet Saraki Over Lawmakers' Pay

Premium Times, 20 September 2017

Representatives from the Socio-Economic Rights and Accountability Project, SERAP, will on Thursday visit the National Assembly to meet with the Senate President, Bukola Saraki, to… Read more »

Nigeria: Saraki to Meet CSOs Over Senators' Pay

This Day, 18 September 2017

The Senate President, Dr. Bukola Saraki, has invited Civil Society Organisations (CSOs) to a round-table over the "contentious" salaries of lawmakers. Read more »

Nigeria: Does a Senator Get N3 Billion Yearly, SERAP Asks Saraki

Vanguard, 15 September 2017

Socio-Economic Rights and Accountability Project, SERAP, has urged the Senate President Dr Bukola Sakari to "urgently explain to Nigerians if it is true that a Nigerian Senator… Read more »

Nigeria: Serap to Saraki - Tell Nigerians If It's True That a Senator Gets Over N3bn Yearly

Vanguard, 14 September 2017

Socio-Economic Rights and Accountability Project (SERAP) has urged the Senate President Dr Bukola Sakari to "urgently explain to Nigerians if it is true that a Nigerian Senator… Read more »
InFocus
The Senate has accused the chairman of the Presidential Action Committee on Anti-Corruption, Professor Itse Sagay, of spreading falsehoods about the National Assembly. The latest ... Read more »