Cameroon Misusing Anti-Terror Laws - Report
Parliament enacted a broad anti-terror law as part of effort to counter the extremist group Boko Haram, but media protection group says authorities are using it to arrest and threaten local journalists who report on the militants or unrest in the country's English-speaking regions.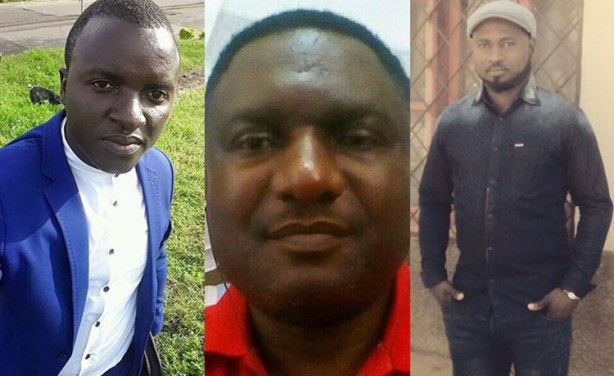 Journalists who faced a military tribunal for covering protests and unrest in Cameroon's English-speaking regions. They were freed under a presidential decree.
Cameroon: CPJ to Release Report On Cameroon's Press Freedom Crackdown

PR Newswire, 15 September 2017

The Committee to Protect Journalists will release its report, "Journalists Not Terrorists: In Cameroon, anti-terror legislation is used to silence critics and suppress dissent," on… Read more »

Cameroon: Publisher Detained for More Than Eight Months

CPJ, 18 September 2017

Police arrested Mofor Ndong, the Bamenda-based publisher of the independent bi-monthly newspaper, Voice of the Voiceless, on February 9, 2017 in Buea, the capital of Cameroon's… Read more »
InFocus
Ahmed Abba's lawyer says he will appeal the 10-year jail term handed to his client, an RFI correspondent, by a military tribunal on terrorism charges. Read more »
Video
Author:

cpj

Publisher:

Publication Date:

20 September 2017

Journalist Ahmed Abba, a Radio France Internationale correspondent in Cameroon, has been imprisoned since 2015. His sister Zara called for his release ... see more »
InFocus
President Paul Biya has ordered a military court to halt its trial of the leaders in order to ease tensions with the country's minority English-speaking areas. Read more »
Video
Author:

cpj

Publisher:

Publication Date:

20 September 2017

Journalists in Cameroon fear suppression by authorities, who can force news outlets to conform to pro-government narratives or face persecution. Many ... see more »