Ugandan Age Limit Debate - Police, Military Surround Parliament
Heavily armed anti-terrorism police and the military are deployed around Parliament in Kampala, making it difficult for MPs to get to work. Igara West MP Raphael Magyeni is expected to seek leave of Parliament to table a motion to amend the constitution so as to scrap the presidential age limit, which is widely seen as a move to allow President Yoweri Museveni to stay in power.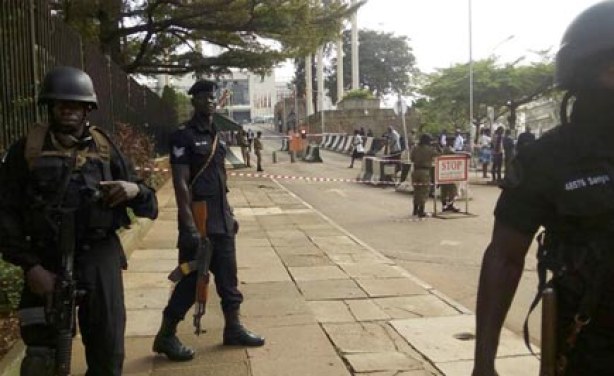 Security officers deployed at the main gate of Parliament.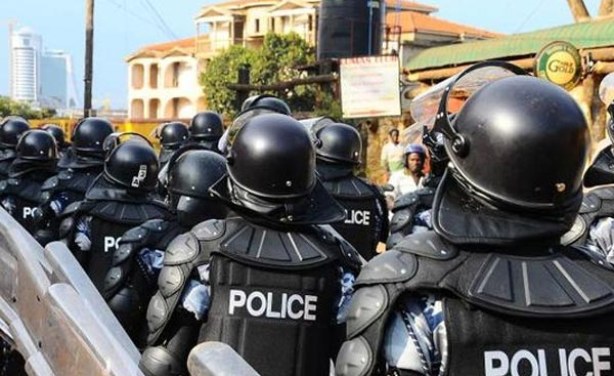 Police deploy in Kampala ahead of presidential age limit demonstrations.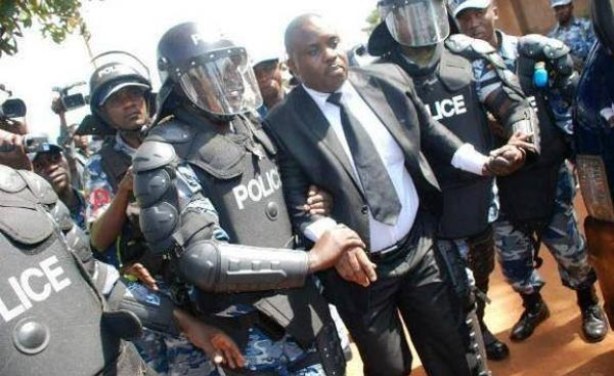 Police arrest Kampala Mayor Erias Lukwago at his home in Wakaliga.
Uganda: Opposition Offices Sealed Off

Monitor, 21 September 2017

Police have sealed off the Opposition Forum for Democratic Change (FDC) offices in Kampala a head of their planned demonstration against lifting of the presidential age limit. Read more »

Uganda: Police Deploy Heavily Ahead of Planned Demonstrations Over Age Limit

Monitor, 21 September 2017

Security has been tightened in Uganda's capital Kampala ahead of planned demonstrations against lifting of the presidential age limit. Read more »

Uganda: Age Limit - Two NGO Offices Under Police Siege

Observer, 20 September 2017

Civil society offices of Action Aid in Kasanga and Great Lakes Institute For Strategic Studies in Ntinda are under police siege with staff not allowed to leave the premises. Read more »

Uganda: Religious Leaders After Years of Eating Free Lunches Confront Dangerous Truth

Monitor, 21 September 2017

It is an understatement that the sober statement by the Inter-Religious Council of Uganda on the pending amendment of the Constitution has come too late. The religious leaders… Read more »

Uganda: Age Limit Debate - Karimojong Elders Warn MPs On Land

Monitor, 21 September 2017

Elders from Karamoja sub-region have asked MPs to refrain from amending the land law as they push for lifting of the presidential age limit. Read more »

Uganda: MP Fungaroo Rallies Voters Against Presidential Age Limit Removal

Monitor, 21 September 2017

The Obongi County MP, Mr Hassan Kaps Fungaroo, has mobilised constituents to storm the streets of Arua in protest against the proposed lifting of the presidential age limit. Read more »

Uganda: Brawl Over Age Limit Removal Is a Bit Like Two Bald Men Fighting for a Comb

Monitor, 21 September 2017

A proposal to remove presidential age limit from the Constitution has left the population sharply divided, Parliament under heavy armed guard, and Uganda on the edge of a political… Read more »

Uganda: MPs Scuffle As Age Limit Debate Rages On

Monitor, 19 September 2017

As the debate on the contentious planned lifting of the presidential age limit escalate, some politicians have decided to settle their differences physically. Read more »

Uganda: Mao - Land Bill a Trick to Remove Age Limit

Observer, 20 September 2017

On September 18, national leaders of the Democratic Party (DP) held a breakfast meeting at Sheraton Kampala hotel to discuss a draft policy brief on land reform. Read more »

Uganda: Oulanyah Calls for Calm Amid Tensions Over Age Limit Bill

Independent (Kampala), 20 September 2017

The Deputy Speaker of Uganda's Parliament Jacob Oulanyah has confirmed that he has received two notices of motion in relation to a constitution amendment. Read more »
InFocus
After a long meeting, the Ugandan cabinet publicly declared its full backing for ruling party MPs pushing a bill to scrap the constitutional presidential age limit. The effect of ... Read more »

Kyaddondo East Member of Parliament Robert Kyagulanyi Sentamu - popularly known as Bobi Wine - has attacked ruling party MPs who want to amend the constitution. In an audio message ... Read more »