South African Police, Protesters Clash in Ocean View, Cape Town
Kommetjie residents burnt tyres and trew stones at officers during protests demanding police take action and reduce the high level of crime in the township.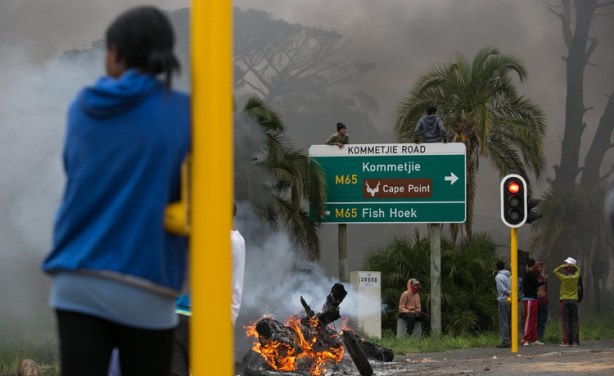 Police and about 150 residents of Ocean View in Cape Town's south peninsula clashed on Thursday. This was the second consecutive day of protests. Youths blocked Kommetjie Road with stones, burning ...
Video
Publisher:

Publication Date:

21 September 2017

After three gang-related killings in the space of a week, the community of Ocean View in Kommetjie took to the streets on Thursday to protest what ... see more »
A resident throws oil onto an Ocean View road sign during a protest against inadequate policing.

A water canon was used to put out the flames. A small group of residents threw rocks and shot a flare at police causing matters to escalate.

Protesters attempted to roll burning tyres down the street towards police but it continually failed.