Kenyatta Hints at Changes in Kenya's Law to Curb Judges
The planned trimming of the judiciary's powers comes after a series of attacks on the Supreme Court by President Uhuru Kenyatta and his supporters, following its annulment of Kenyatta's win over his rival Raila Odinga.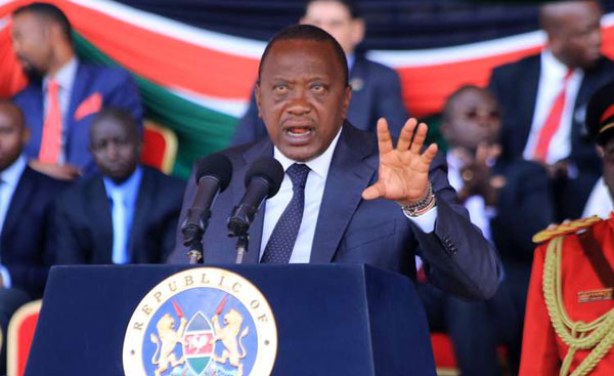 President Uhuru Kenyatta.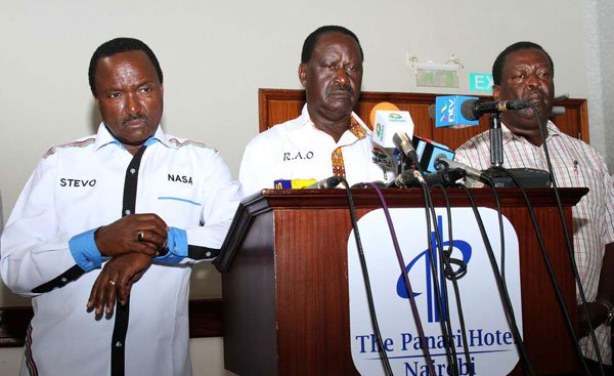 Nasa leader Raila Odinga, accompanied by his co-principals Kalonzo Musyoka (left) and Musalia Mudavadi, addresses journalists at Panari Hotel, Nairobi.
Kenya: Ruling Reveals a Court Beset By Disagreements

Nation, 22 September 2017

The sharply divergent decisions of the September 1 ruling, which were expounded on Wednesday, have offered a glimpse into a deeply divided court. Read more »

Kenya: Supreme Court Ruling a Set Back to Democratic Ideals, Says President Kenyatta

Kenya Presidency, 21 September 2017

President Uhuru Kenyatta has said the Supreme Court ruling nullifying the August 8Presidential election sets back the democratic ideals for which Kenyans fought over many years. Read more »

Kenya: IEBC Changes Date for Repeat Poll

Nation, 21 September 2017

The fresh presidential election ordered by the Supreme Court will now be held on October 26, just five days to the 60 days allowed by the Constitution. Read more »

Kenya: Cabinet Approves Sh10 Billion for Fresh Presidential Poll

Capital FM, 21 September 2017

The Cabinet has approved Sh10 billion for Independent Electoral and Boundaries Commission (IEBC) to conduct the fresh presidential election that has now been pushed to October 26. Read more »

Kenya: Cabinet Approves Budget for Repeat Election

Nation, 21 September 2017

Cabinet on Thursday approved Sh10 billion budget to facilitate preparation for the repeat presidential election now slated for October 26. Read more »

Kenya: Kenyatta - What Vacuum? I'm in Charge Until New Leader Sworn-In

Capital FM, 21 September 2017

President Uhuru Kenyatta has slammed claims by the Opposition that the country is staring at a constitutional crisis if the fresh presidential election is not held by the end of… Read more »

Kenya: IEBC Moves Fresh Presidential Poll to October 26

Capital FM, 21 September 2017

The Independent Electoral and Boundaries Commission now says the fresh presidential election will be held on October 26, 2017. Read more »
InFocus
President Uhuru Kenyatta has described the majority decision to void his re-election as "judicial dictatorship" that had robbed citiizens the power of decision making. Read more »

In the judgments read by Chief Justice David Maraga, his Deputy Philomena Mwilu and Judge Isaac Lenaola, the court noted that the level of irregularities and illegalities in the ... Read more »

In its full judgment for nullifying the August 8 presidential election, the Supreme Court judges have reprimanded the Independent Electoral and Boundaries Commission for defying ... Read more »