What People are Saying about the Ugandan Age Limit Debate
A motion to change the age limit for the Ugandan presidency has brought chaos to the country's Parliament - and the debate has spilled over into the press. Here are a selection of today's opinion pieces.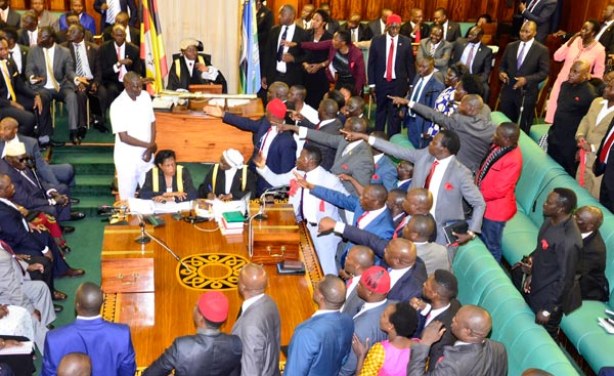 Chaos erupted in Parliament, forcing Speaker Rebecca Kadaga to adjourn the sitting.
Uganda: Uganda Needs Museveni's Old and Tested Hand

Observer, 27 September 2017

Fellow countrymen and women, I salute you all. In the interest of electoral stability and steady progress, I address myself to honorable members of parliament. Read more »

Uganda: From Sole Candidate to President for Life!

Observer, 27 September 2017

President Yoweri Museveni is a lucky man - there are many things he has overcome during his presidency. Read more »

Uganda: It's Good for the Age Limit to Be Removed At Gun Point

Monitor, 27 September 2017

Last week in these pages, Makerere University law don Joe Oloka-Onyango writing about the military siege of the Uganda Parliament ahead of an expected move to amend the… Read more »

Uganda: I Love President Museveni and Want to See Him Retire

Monitor, 27 September 2017

Recently, MP Robert Kyagulanyi used social media to call upon Ugandans to rise and defend the Constitution. Shortly after, a counter message from unknown author appeared ridiculing… Read more »

Uganda: Museveni May Lose His Life Over Life Presidency Project, Says Besigye

Monitor, 26 September 2017

Daily Monitor's Ivan Okuda talks to four time presidential candidate Dr Kizza Besigye. Read more »
InFocus
There were chaotic scenes in Parliament after Speaker Rebecca Kadaga said the order paper had been amended to include a controversial motion to amend the age limit cap for ... Read more »