Will Pay Rise Make Meaningful Impact to Zambians?
Expelled ruling party member of parliament Chishimba Kambwili says the salary increment that government has awarded the civil servants is too insignificant to make any meaningful impact in the lives of workers. This follows an announcement that civil servants across the board will receive between 7.4 and 9.6% salary rise with effect from January 2018.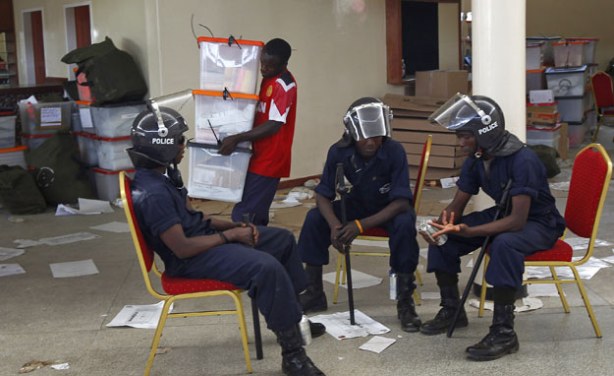 Police at a polling station in Zambia (file photo).
Zambia: Deputy Speaker Reprimands MP Kambwili

Times of Zambia, 27 September 2017

Patriotic Front (PF) Roan Member of Parliament (MP) Chishimba Kambwili was yesterday reprimanded by First Deputy Speaker Catherine Namugala for using Parliament as a podium to… Read more »

Zambia: Our MPs Are Thieves, Opposition's Mwanza Cries Out

Zambia Reports, 21 June 2017

The colossal amounts of money that our Members of Parliament are raking in terms of allowances, salaries, gratuity, upkeep and other benefits is a pure case of institutionalized… Read more »

Zambia: Construction Workers Go 2 Years Without Pay

Zambia Reports, 13 June 2017

Hundreds of workers engaged by Flourishing Construction of South Africa in Chiengi have gone for two years without receiving their salaries. Read more »

Zambia: Heartbreaking Tales of Housemaids

Times of Zambia, 13 March 2017

AS Zambia celebrated International Women's Day (IWD) last week my mind wondered to domestic workers and how they are mistreated despite the big role they play in running homes. Read more »

Zambia: Kwacha Gain Is Real!

Times of Zambia, 28 January 2017

As Zambia enters 2017, there is great promise on the Kwacha competing favourably with the Dollar though some people feel the local currency appreciation is cosmetic. Read more »
InFocus
Zambia has attracted some international attention over events that have taken place over a relatively short time. The world's media has in the past found Zambia uninteresting Read more »

With the leader of the main opposition party Hakainde Hichilema and his co-accused still in prison on treason charges, a suspension of 48 MPs from Hichilema's United Party for ... Read more »

The opposition has criticised President Edgar Lungu's move to have his salary cut by half, saying that it was "delusional" as it "meant nothing" for Zambians. Read more »