UN Steps Up Aid Amid Cholera Outbreak in Nigeria
The United Nations Population Fund has warned that the outbreak of cholera pose grave risks to pregnant women in the north-east states ravaged by the Boko-Haram militants. The World Health Organization has said that it has completed a massive cholera vaccination campaign in the north-east, where the disease has already killed 54 people.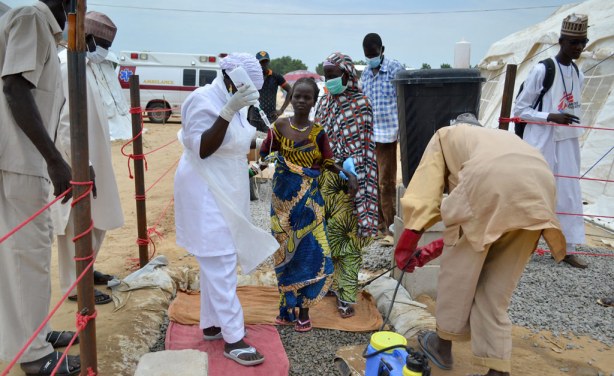 New patient being admitted and washed with chlorinated water in the cholera treatment centre run by the Borno state Ministry of Health in northern Nigeria and supported by UNICEF and UNFPA.
Nigeria: Hundreds of Thousands Vaccinated Against Cholera in Northeast

VOA, 27 September 2017

The World Health Organization reports 844,000 people in northeast Nigeria have been reached with one dose of oral cholera vaccine in an effort to prevent the fatal disease from… Read more »

Nigeria: Health Workers Race to Contain Cholera Outbreak in Northeast

Thomson Reuters Foundation, 19 September 2017

Health workers in northeast Nigeria said on Tuesday they were striving to contain a cholera outbreak which is sweeping through camps for those uprooted by Boko Haram, amid a drive… Read more »

Nigeria: No Cholera Outbreak in Ogun - Official

Premium Times, 28 September 2017

The Ogun State Government has dismissed speculations of a cholera outbreak in the state. Read more »

Nigeria: Borno Cholera Outbreak Could Have Been Worse - WHO

This Day, 23 September 2017

The World Health Organisation (WHO) on Friday said the death toll of 48 recorded from outbreak of cholera in Borno State, North East Nigeria could have been more but for early… Read more »

Nigeria: What's Driving Multiple Outbreaks of Cholera in Nigeria

The Conversation Africa, 25 September 2017

This year, 16 of Nigeria's 36 states have experienced cholera outbreaks. This has resulted in 1,622 suspected cases of the disease and 33 deaths. This is a steady increase in… Read more »