Governor Fayose Announces Bid for Nigerian Presidency
The Governor of Ekiti State, Ayodele Fayose, has officially declared his intention to contest the 2019 presidential election under the Peoples Democratic Party. Fayose has been one of the most outspoken critics of President Muhammadu Buhari and his ruling All Progressives Congress party.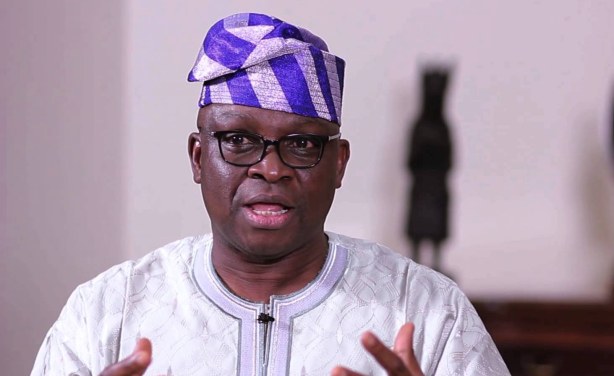 Ekiti State Governor, Ayodele Fayose.
Nigeria: Fayose Declares for Presidency, Vows to Sack Buhari

This Day, 29 September 2017

The Governor of Ekiti State, Ayodele Fayose, thursday formally unveiled his intention to contest for the 2019 presidential election, vowing to defeat President Muhammadu Buhari. Read more »

Nigeria: Governor Fayose Formally Declares Presidential Ambition

Premium Times, 28 September 2017

The Governor of Ekiti State, Ayodele Fayose, has officially declared his intention to contest the 2019 presidential election under the Peoples Democratic Party, PDP. Read more »

Nigeria: How I Will Defeat Buhari in 2019 - Fayose

Premium Times, 29 September 2017

Below is the full text of Fayose's declaration speech for the presidency of Nigeria. Read more »

Nigeria: 2019 Presidential Race: Fayose Declares Under PDP

Vanguard, 28 September 2017

The Ekiti State Governor, Dr. Peter Ayodele Fayose on Thursday declared his intention to contest the 2019 Presidential Election under the Peoples Democratic Party (PDP) with a vow… Read more »

Nigeria: Why I Want to Be President - Fayose

Guardian, 29 September 2017

Governor Ayodele Fayose of Ekiti State yesterday formally declared his intention to contest the 2019 presidential election under the Peoples Democratic Party (PDP). Read more »

Nigeria: Fayose to Contest Presidency 2019 to Defeat APC

Daily Trust, 28 September 2017

Chairman of the Peoples Democratic Party (PDP) Governors' Forum and governor of Ekiti State, Ayodele Fayose said Thursday he would contest the office of president in the 2019… Read more »

Nigeria: Why I Want to Be Nigeria's President Despite PDP Zoning - Ayo Fayose

Premium Times, 28 September 2017

The Ekiti State Governor, Ayodele Fayose, on Thursday formally declared his intention to run for president in 2019 on the platform of the Peoples Democratic Party, PDP. Read more »

Nigeria: Why Fayose Cannot Run for Presidency - Nwodo

Vanguard, 28 September 2017

Dr Okwesilieze Nwodo, a Board of Trustee (BoT) member of People Democratic Party (PDP), says Ekiti State Governor, Ayodele Fayose, cannot contest in the party's primary poll for… Read more »

Nigeria: Fayose Reacts to Arrest of Top Ekiti Officials By EFCC

Premium Times, 28 September 2017

The Ekiti State Governor, Ayo Fayose, has reacted to the arrest of two of his top officials by the anti-graft agency, EFCC. Read more »
InFocus
Ekiti State governor Ayodele Fayose has set up a Facebook page to signify his intentions of running for the nation's presidency in the 2019 elections. Read more »