Zimbabwe's VP Mnangagwa Fires Warning Shots to Foes
Vice President Emmerson Mnangagwa has for the first time come to the defence of the beleaguered Masvingo and Midlands provinces - urging them to unflinchingly stand by their own. This comes after First Lady Grace Mugabe said the two provinces were riddled with factionalism. Mnangagwa had until now remained silent inspite of being a recipient of relentless verbal attacks from President Robert Mugabe and his wife Grace.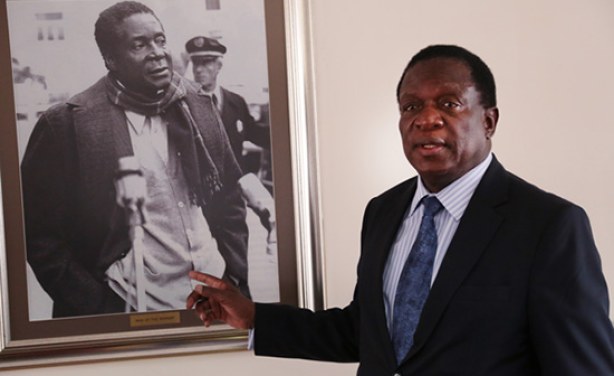 Vice President Emmerson Mnangagwa (file photo).
Zimbabwe: I Won't Be Pushed Out of Office, Says Mugabe, 93

News24Wire, 29 September 2017

Zimbabwean President Robert Mugabe on Thursday remained adamant that he would remain in office despite worsening cash and fuel shortages that have hit the southern African country. Read more »

Zimbabwe: Successionists At War

New Zimbabwe, 26 September 2017

HIGHER education minister Jonathan Moyo continues to kick dust right in the face of Vice President Emmerson Mnangagwa, this time intimating that Zanu PF's number two was violating… Read more »

Zimbabwe: President Mugabe Stays Put, Scorns 'Judas Iscariots'

New Zimbabwe, 29 September 2017

PRESIDENT Robert Mugabe Thursday boldly declared he would not surrender his job anytime soon, moreso at the behest of unnamed "Judas Iscariots" who were toiling to secure his… Read more »