Ugandan President, MP Bobi Wine Trade Blows
Kyadondo East MP Robert Kyagulanyi - also known as singer Bobi Wine - and President Yoweri Museveni have been issuing statements and counter-statements in what is being seen as a generational difference of ideas on how the country should be run.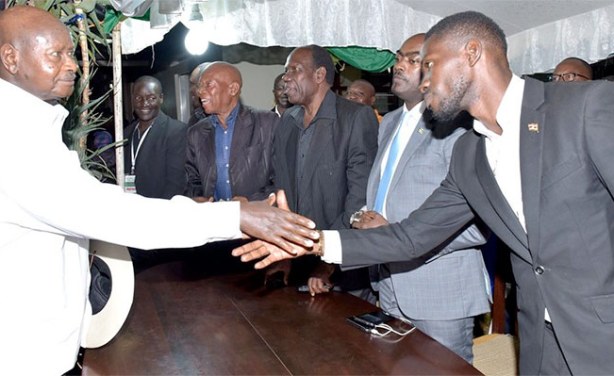 President Yoweri Museveni shakes hands with Bobi Wine.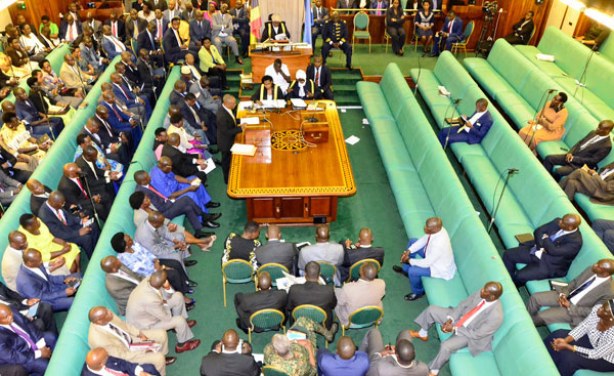 Igara West MP Raphael Magyezi on the floor of Parliament during the first reading of the age limit bill.
Uganda: Presidential Age Limit Battle Shifts to House Committee

Monitor, 8 October 2017

The battle over the removal of presidential age limits has now shifted to the Legal and Parliamentary Affairs Committee, with rival groups of MPs back to the drawing board to… Read more »

Uganda: Are Ugandans Docile?

Independent (Kampala), 9 October 2017

Why last month's scuffles in parliament excited the public but did not lead to popular protests Read more »

Uganda: Age Limit - the Angry Ugandans

Independent (Kampala), 9 October 2017

Why Besigye's army of rage is defeating Museveni Read more »

Uganda: Let Religious Leaders Present Views to the Committee of Parliament

Monitor, 9 October 2017

The Daily Monitor of October 5, had a screaming headline: 'Removing age limit is treason - Odama'. This was in reference to a press release the previous day by religious leaders in… Read more »

Uganda: Let's Scrap the Darn Age Limit and These Too

Monitor, 9 October 2017

Stockholm Syndrome, that stage where a hostage begins to feel closer to the hostage taker, is that where Uganda is at going by what the Opposition is saying? Me I don't know. I… Read more »

Uganda: Why the Aga Khan Deserves Uganda's Highest Civilian Honour

Monitor, 9 October 2017

When he takes to the podium to be honoured today, it won't be by accident or even a miracle; it will be tribute to decades of work and contribution His Highness Prince Karim Aga… Read more »

Uganda: Kadaga Could Have Averted the Chaos in Parliament

Monitor, 9 October 2017

I followed very closely the process of the drafting of the 1995 Constitution by the Constituent Assembly in 1994/1995, chaired by the late James Waphakabulo. Wapa, as he was fondly… Read more »

Uganda: Age Limit - New Turning Point Beckons As Uganda Turns 55

Monitor, 9 October 2017

If the controversial Constitution Amendment Bill targeting to remove age limitations on the presidency is passed, President Museveni will have nothing in the Constitution to stop… Read more »
InFocus
Robert Kyagulanyi, popularly known as Bobi Wine, has been arrested countless times and had grenades thrown at his house. Recently, the police and the immigration office have have ... Read more »

In what may be the fastest movement of a bill, especially one presented by a private member, the Magyezi Bill has so far moved four critical steps in less than a week - from ... Read more »