Drought Puts Millions of Kenyans at Risk of Starvation
Millions of animals, both domestic and wild, are also suffering devastating effects of delayed rains. Many pupils have reportedly dropped out of school as they join parents in search of food, water and pasture.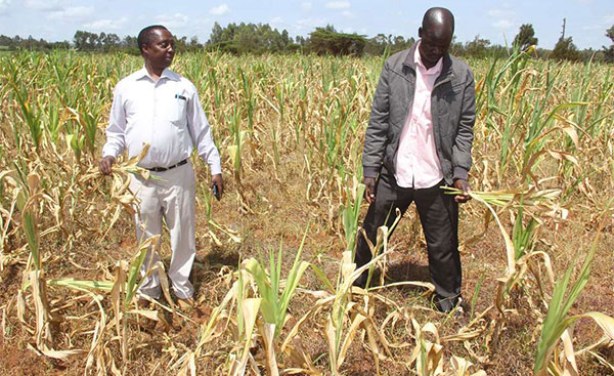 Cyril Cheruiyot (left), Agriculture Chief Executive for Uasin Gishu County, at a farm belonging to Leonard Kimutai (right), a resident in the county on June 26, 2017.
InFocus
Army worms have destroyed hundreds of acres of maize crops in the country's North Rift area. "This spells doom for us when coupled with the high cost of farm inputs, the drought in ... Read more »

Efforts to combat the effects of the current drought in the region could be more effective if countries shared information, participants at an Intergovernmental Authority on ... Read more »

The worst affected by the current drought are the elderly, sick, children under five and mothers. The government allocated U.S.$52 million in the first stage of interventions that ... Read more »