Did Kenyatta Issue Title Deeds in Mombasa Campaign Tour?
Tourism Cabinet Secretary Najib Balala has described the tour as a great victory for the coastal people while thanking President Uhuru Kenyatta for making good his campaign promise of ensuring locals regain control of their land.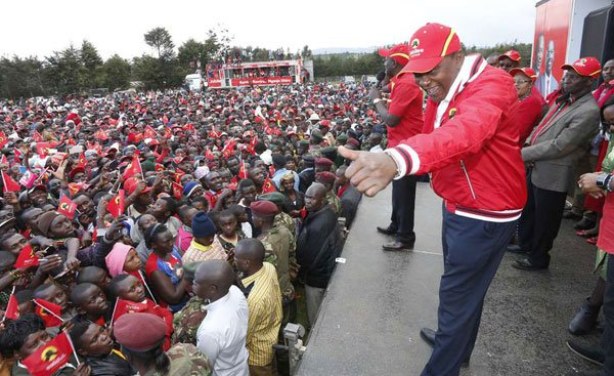 President Uhuru Kenyatta greets supporters who turned up for a Jubilee rally in Samata Nadara, Nayandarua County, on October 7, 2017.
Kenya: Kenyatta in Mombasa, Issuance of Titles Deeds Top On Agenda

Capital FM, 8 October 2017

President Uhuru Kenyatta and Deputy President William Ruto will Sunday lead Jubilee Party campaigns in the coastal city of Mombasa. Read more »

Kenya: Kenyatta Starts Four-Day Campaign Tour of Five Counties

Nation, 5 October 2017

President Uhuru Kenyatta will today start a four-day, five-county campaign blitz ahead of the October 26 fresh presidential election pitting him and his bitter rival Raila Odinga… Read more »

Kenya: High Court Stops #GoKDelivers and #JubileeDelivers Adverts

Nation, 2 October 2017

The High Court has stopped the government from advertising its achievements, pending the hearing of a case filed by Katiba Institute. Read more »

Kenya: Kenyatta to Hunt for Votes in Western Kenya

Nation, 29 September 2017

President Uhuru Kenyatta and his Deputy William Ruto will pitch camp in the Western region starting today, in a bid to hunt for votes ahead of the scheduled fresh presidential… Read more »

Kenya: New Jubilee Strategy to Secure Numbers on October 26

Nation, 27 September 2017

The Jubilee Party has rolled out a new strategy aimed at ensuring the electoral commission abides by the law in managing the tallying and transmission of results at the October 26… Read more »

Kenya: President Kenyatta Intensifies Campaigns With Visit to Five Counties

Nation, 27 September 2017

President Uhuru Kenyatta is expected to visit five counties in five days as he intensifies campaigns ahead of the October 26 repeat elections. Read more »

Kenya: President Kenyatta Rallies Support From Kisii Professionals

Kenya Presidency, 26 September 2017

President Uhuru Kenyatta today held a meeting with Kisii professionals who are hugely credited for the huge performance the Jubilee Party scored in the counties of Kisii and… Read more »

Kenya: Elections Only Path to Presidency, President Kenyatta Says

Capital FM, 25 September 2017

President Uhuru Kenyatta has said the ballot box was the only path to the presidency and those in the Opposition angling for power sharing were doomed to fail. Read more »

Kenya: Western Kenya Governors Craft Plan for Odinga Campaigns

Nation, 24 September 2017

Ten governors from western Kenya have agreed to work on a common campaign strategy to mobilise more than 4.6 million votes in favour of Nasa presidential candidate Raila Odinga. Read more »

Kenya: Team Formed to Campaign for President Kenyatta in Kwale

Nation, 8 September 2017

Jubilee politicians in Kwale County have kicked off campaigns for President Uhuru Kenyatta's re-election, promising to leave nothing to chance. Read more »

Kenya: Kenyatta Starts Three-Day Campaign Tour of Five Counties

Nation, 7 September 2017

President Uhuru Kenyatta will Thursday start a three-day whirlwind campaign blitz in five counties as the October 17 two-man race between him and his main challenger Raila Odinga… Read more »

Kenya: Jubilee Wages War on CJ Maraga in Start of Campaign

Nation, 2 September 2017

President Uhuru Kenyatta and his deputy William Ruto launched the second round of their re-election campaigns in Nakuru by accusing Supreme Court judges of colluding with the… Read more »
InFocus
The High Court has dismissed a case aimed at stopping Independent Electoral and Boundaries Commission Chairman Wafula Chebukati, his commissioners and Chief Executive Officer Ezra ... Read more »

National Super Alliance supporters have staged demonstrations in the capital Nairobi, Kisumu, Kakamega and Mombasa, heeding the call of the leaders to protest twice a week - on ... Read more »

The Independent Electoral and Boundaries Commission Chairman Wafula Chebukati is opening a five-day training of the commission's 290 constituency returning officers and an equal ... Read more »