Which Way Will Liberians Go? #LiberiaDecides
Liberians now face the task of choosing from among twenty presidential candidates - many of whom have promised to fight corruption, repair the country's economy, make it self-sufficient and reconcile what some consider to be a divided nation.
Liberia: Liberians Go to the Poll Tomorrow

New Dawn, 9 October 2017

Liberians residing here are expected to go to the poll tomorrow, Tuesday, October 10, to elect a president and legislative candidates of their respective choices. Read more »

Liberia: Working Against The Grain: Can Liberia Avoid Violence in The Upcoming Elections?

Africa Portal, 9 October 2017

Tomorrow, Liberia will hold an election marking its first post-war handover of power. Cited by political analysts as 'highly unpredictable', the ballot will reshape Liberia's… Read more »

Liberia: Which Way? Liberians Decide Tomorrow

New Republic, 9 October 2017

The third post-war elections to further fortify and coagulate a yet-to-be-grounded and appropriately nurtured democracy in Liberia is at hand. Read more »

Liberia: Presidential Candidate Cummings Wants to Bring Business Experience to Liberia

RFI, 9 October 2017

A former Coca-Cola executive and the head of the Alternative National Congress (ANC) party, Alexander Cummings is considered one of the frontrunners in the Liberian presidential… Read more »

Liberia: Ellen Prophesizes Victory

New Dawn, 9 October 2017

President Ellen Johnson - Sirleaf says her choice for representative candidates in Grand Bassa and Bomi counties are at fifth places, respectively on the ballot papers, and the… Read more »

Liberia: Weah Wraps Campaign With Star-Studded Rally

New Dawn, 9 October 2017

Thousands turned out for Senator George Weah's star-studded rally in Monrovia three days before election. Weah brought some heavy-hitters to Monrovia in his final appeal to voters. Read more »

Liberia: Real Change Is Imminent

New Dawn, 9 October 2017

About 2.1 million Liberian registered voters are expected to head to the polls on Tuesday October 10, (tomorrow) to elect a successor to President Ellen Johnson-Sirleaf, with many… Read more »

Liberia: Registered Voters Express Interest in October 10 Election in Grand Bassa County

New Republic, 9 October 2017

As Liberia is at a crossroads to elect a new leader many electorate in Grand Bassa County have vowed to turnout in droves on October 10 to vote for both representative and… Read more »

Liberia: Nimba Citizens Renew Calls to Review Arcelormittal MDA

New Republic, 9 October 2017

With less than a day to the conduct of the 2017 polls, concerned citizens in Yekeya, Nimba County have recommended to the next elected government to review the mineral development… Read more »

Gambia: Good Morning Mr President - What About the Other Promises to the Media?

The Point, 9 October 2017

Mr. President, first of all, we would like to commend you and your government for closely working with the press in a friendly atmosphere since your assumption to the highest… Read more »

Liberia: Change Is Imminent-Cllr. Brumskine & The LP Assure A Dying Nation

New Republic, 9 October 2017

In February of 2007, then Senator Barrack Obama of Chicago stood on a super structure built at the back of his home in Illinois, to announce to the people of America he was running… Read more »

Liberia: Voters Looking for More in Their Next President

RFI, 8 October 2017

After two six-year terms, post-war President Ellen Johnson Sirleaf is stepping down, and 20 presidential candidates are vying to replace her and secure the country's top job. The… Read more »
InFocus
"The long list of candidates vying for the country's top job are not your average politicians; including a former warlord infamous for torturing and killing a sitting president, a ... Read more »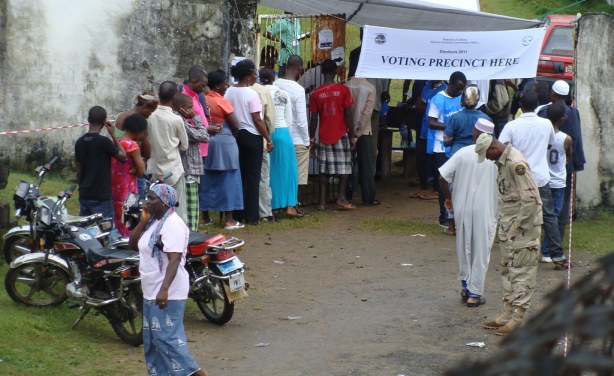 People stand in line to vote at Liberia's elections (file photo).