Will Sanction Relief Improve Living Conditions in Sudan?
The lifting of sanctions "has mostly a psychological effect'', says Hamid Eltigani, economist and head of the Department of Public Policy and Administration at the American University in Cairo.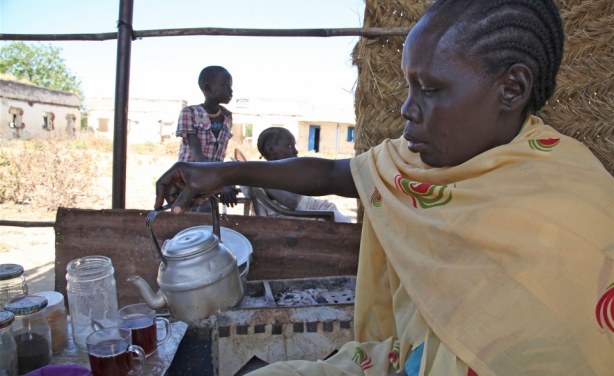 Tea seller Achuil Deng now only sells a few cups a day oustide an abandoned Abyei school.
Sudan: President Extends Ceasefire

Radio Dabanga, 9 October 2017

Sudanese President Omar Al Bashir has extended the government's ceasefire in the country to the end of the year. Read more »

Sudan: UNAMID Welcomes U.S. Sanctions Relief On Sudan

Radio Dabanga, 9 October 2017

In a press statement on Sunday, the joint UN-AU Mission in Darfur (Unamid) welcomed the US Administration's decision to lift most economic sanctions imposed on Sudan. Read more »

Sudan: U.S. Lifts Sanctions - 'More Progress Needed'

Radio Dabanga, 6 October 2017

Today the administration of President Donald Trump lifted economic sanctions on Sudan "in recognition of its sustained positive actions". Much more progress is needed, say the… Read more »

Sudan: Iraqi Charge d' Affaires Congratulates Sudan On Revocation of U.S. Sanctions

SNA, 7 October 2017

The Iraqi Charge d' Affirmed. Mohammed Samer has congratulated Sudan government and people on lifting the US Economic sanctions imposed on Sudan. Read more »

Sudan: Minister of Minerals Congratulates Sudanese People On Revoking of U.S. Sanctions

SNA, 7 October 2017

Minister of Minerals, Prof. Hashem Mohammed Salem has congratulated, Saturday, the Sudanese People on the US decision concerning the total lifting of the economic sanctions imposed… Read more »

Sudan: Minister of Commerce - Revocation of U.S. Sanctions Strengthen Foreign Trade

SNA, 7 October 2017

Sudan on Saturday said the end of the economic embargo will help it reintegrate in the international trade and financial markets. Read more »

Sudan: Arab Parliament Welcomes Lifting of U.S. Sanctions Imposed On Sudan

SNA, 7 October 2017

The Arab Parliament has welcomed the US decision of revoking of the US economic sanctions imposed on Sudan, calling on the US Administration for lifting Sudan's name from the list… Read more »

Sudan: Chadian Ambassador Congratulates Sudan People and Government On Sanctions Revocation

SNA, 7 October 2017

The Chadian Ambassador to Khartoum, Saleh Hammed has affirmed that his country was convinced that the US will revoke its economic sanctions imposed on the country as Sudan did much… Read more »

Sudan: UN Congratulates Sudan On Revoking of the Us Sanctions

SNA, 7 October 2017

The UN on Saturday congratulated the Sudan on Friday's US decision to revoke the economic sanctions imposed on the Sudan since 1997. Read more »

Sudan: South Darfur Political Forces - National Dialogue and Firearms Collection Behind Lifting of Sanctions

SNA, 7 October 2017

The political forces in South Darfur has attributed the issuance of the US decision lifting the economic sanctions imposed on Sudan to the National Dialogue and the firearms… Read more »

Sudan: Arab League Welcomes Revocation of U.S. Sanction Imposed On Sudan

SNA, 7 October 2017

The Arab League has welcomed the American decision revoking the US economic sanctions imposed on Sudan. Read more »
InFocus
The sanctions were imposed in 1997 when then-president Bill Clinton issued an executive order citing country's "continued support for international terrorism, ongoing efforts to ... Read more »