Kenya Bans Demos in Nairobi, Mombasa and Kisumu CBDs
Acting Interior Cabinet Secretary Fred Matiangi says city centres will be a no-go zone and action will be taken against anyone who acts contrary to this directive. The police are also calling on anyone who may have been assaulted, robbed or suffered losses of any nature during the anti-polls body demonstrations to report to the nearest police station.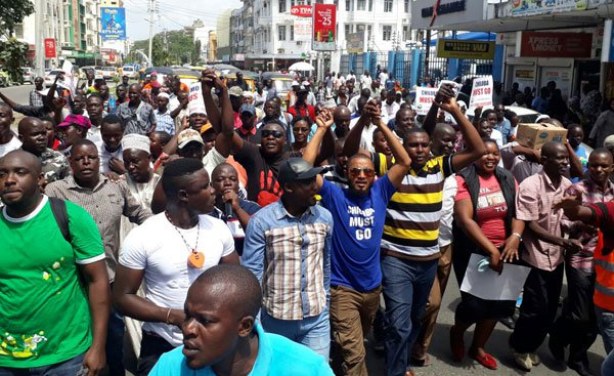 Nasa supporters march in the streets of Mombasa as they head to IEBC offices in the town.
Kenya: Demonstrators for Electoral Reform Injured in Clashes With Police

VOA, 11 October 2017

At least 17 people have been admitted for injuries sustained Wednesday in the opposition stronghold of Kisumu, Kenya, as demonstrators demanding electoral reform clashed with… Read more »

Kenya: Looting, Running Battles and Tear-Gas in City Centre Demos - Video

Nairobi News, 11 October 2017

Goons masquerading as anti-IEBC demonstrators were caught on video looting groceries outside a Nairobi hotel on Wednesday. Read more »

Kenya: Assaulted, Robbed During Nasa Demos? Report to Police

Capital FM, 11 October 2017

Police are now urging anyone who may have been assaulted, robbed or suffered any kind of loss during mounting NASA protests to file a formal complaint. Read more »

Kenya: Expect Daily Demos From Next Week, Warns Nasa

Nairobi News, 11 October 2017

Anti-IEBC demos will take place daily starting next week, National Super Alliance (Nasa) announced on Wednesday. Read more »
InFocus
Among the dead are seven minors - three girls and four boys, and the youngest a six-month-old baby who died of injuries sustained at her home in Kisumu's Nyalenda slums, according ... Read more »

National Super Alliance supporters have staged demonstrations in the capital Nairobi, Kisumu, Kakamega and Mombasa, heeding the call of the leaders to protest twice a week - on ... Read more »

This comes after armed police "unlawfully" entered St Peter's Awich Kodingo in Nyalenda slums and hurled teargas at the minors. Read more »