Mugabe-to-Die-Pastor Makes U-Turn On 'Prophesy'
The 17th of October 2017 was meant to be the day that President Robert Mugabe takes his last breath' but it seems God has decided to keep him around for a while longer. This is according to Pastor Phillip Mugadza' suggesting God had changed his mind. "About three days ago, I received word from God saying the death of President Mugabe has been postponed to a later date which is not specified," said Mugadza.
Zimbabwe: 'Mugabe Dies Today' Pastor Makes U-Turn

CAJ News, 16 October 2017

The pastor who prophesied President Robert Mugabe would die on Tuesday (October 17) has sparked a frenzy in Zimbabwe ahead of the day the "prophesy" would be fulfilled. Read more »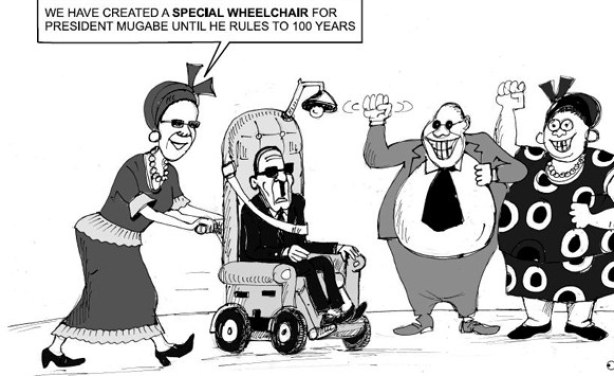 President Robert Mugabe and First Lady Grace Mugabe cartoon.