Ethiopian Airlines Abandons Paper, Goes Fully Digital
There is no more paper in the internal work processes of Ethiopian Airlines, the group has announced. The digitalisation process for ticketing, boarding and sales services began two decades ago. The transition for flight operation, finance and human resource management has been underway for the past seven years.
Ethiopia: Ethiopian Airlines Goes Fully Online

Addis Fortune, 2 October 2017

Ethiopian Airlines Group made the shift to a paperless system by digitalising all of its internal work processes. The digitalisation process has been taking place aggressively for… Read more »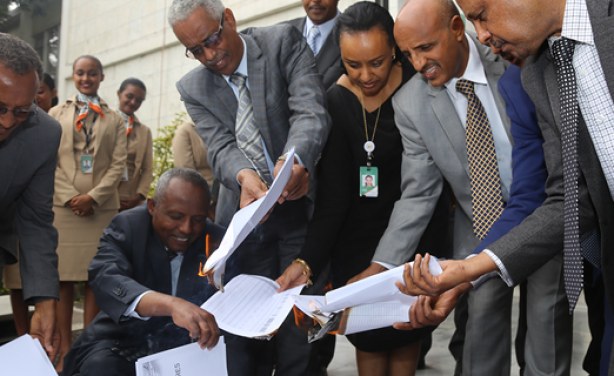 The transition to a paperless system was marked by a paper burning ceremony held at the premises of the Airline.
Ethiopia: Ethiopian Airlines Enables Mobile Wallets for Online Payments

Financial Gazette, 19 September 2017

Ethiopian Airlines, Africa's largest airline group , in partnership with Flocash , a leading Pan-African provider of electronic payment services has enabled online mobile payments… Read more »

Ethiopia: Ethiopian Goes Fully Digital

Ethiopian Airlines, 18 October 2017

Flying even more greener; Ethiopian Airlines Group, the largest airline in Africa, is pleased to announce that it has fully digitalized all its business processes like aircraft… Read more »
InFocus
Ethiopia's national air carrier Ethiopian Airlines is considering flights to the eastern Chinese city of Hangzhou, an emerging technology hub where it plans to attract more Chinese ... Read more »

Arik Air Limited has filed a N20 billion suit against the government and Ethiopian Airlines over recent claims in the media that they were negotiating the takeover of the airline. Read more »

Africa's largest and most successful airline is looking to take over management of the bankrupt Arik Air in order to expand their presence in West Africa. Read more »