New Witness Strains Rwanda-France Ties Over Genocide
Minister of Foreign Affairs Louise Mushikiwabo says the government is "running out of patience" with France due to the back and forth on a file by French judges accusing senior members of the Rwanda Patriotic Front/Army of shooting down the aeroplane - an act which is believed to have sparked the 1994 Genocide against the Tutsi. The emergence of a "new witness" in the case is said to be a sign France is determined to cover up its role in the 1994 genocide against the Tutsi.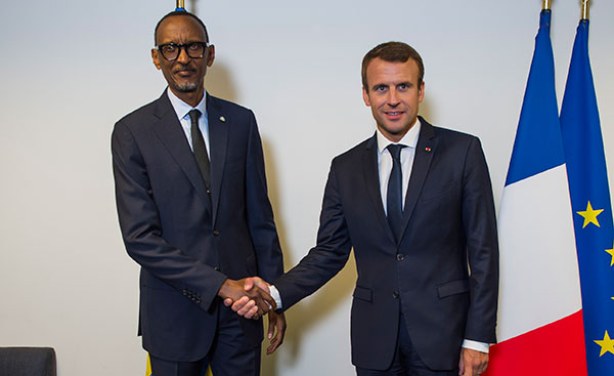 President Paul Kagame met his French counterpart Emmanuel Macron in New York on September 18, 2017.
Rwanda: France Should Come Clean on Genocide, Says Mushikiwabo

New Times, 12 October 2017

French officials should come clean on their role in the 1994 Genocide against the Tutsi, instead of continuing to cover it up with 'sham' litigations that are more political than… Read more »

Rwanda: French Inquiry Into Genocide? Truth Will Ultimately Prevail

New Times, 4 October 2017

Recently, the Government of France announced it had launched an investigation into the possible complicity of the biggest French bank, BNP Paribas, in the Genocide against Tutsi in… Read more »

Rwanda: Survivors Vow to Keep Up Fight as France Steps Up Inquiry Into Bank Genocide Links

New Times, 26 September 2017

The umbrella body of Genocide survivors' associations, Ibuka, has said they will sustain the momentum to push for declassification of crucial files that are in the hands of the… Read more »

Rwanda: Genocide - France Can Keep the Archives - The Truth Is There for All to See

New Times, 21 September 2017

On April 7, 2015 as the world joined Rwandans for the 21st commemoration of the Genocide against the Tutsi, France proclaimed a good message, something that had never happened for… Read more »

Rwanda: France Blocks Access to Mitterrand Documents on 'Genocide Against Tutsi'

News of Rwanda, 19 September 2017

François Graner - a French researcher requested for permission to investigate the archives, he was told that some officials have immunity. Read more »
InFocus
New revelations have, among others, shone a spotlight on a French bank, BNP Paribas, which is being sued for financing the genocide as well as top French officials for issuing ... Read more »

The International League Against Racism and Anti-Semitism has said the French President François Hollande should declassify all documents that reveal the role the French ... Read more »