Namibian Govt Under Pressure Over Alleged North Korea Ties
The Namibian government has rejected accusations by the coordinator of the UN Panel of Experts on North Korea who accused the southern African nation of not complying with UN Security Council sanctions against Pyongyang. Namibia and other African countries now find themselves embroiled in a tussle, as they are alleged to have supported North Korea's nuclear programme by funding various projects.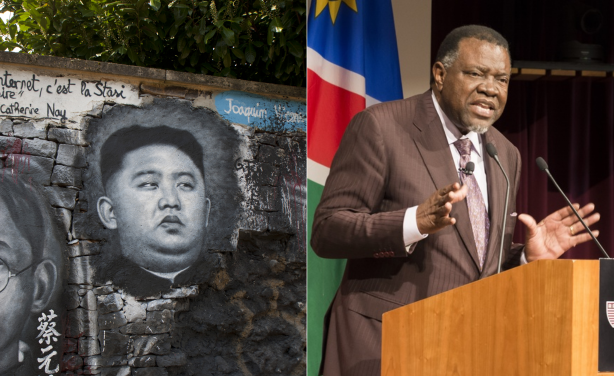 Left: Graffiti of North Korean leader Kim Jong Un and President Hage Geingob (file photo).
Namibia: Timeline - North Trade Korea Relations

New Era, 25 October 2017

Namibia and North Korea sign first trade agreements. Read more »

Namibia: Ministry of Defence Under Pressure Over North Korea

New Era, 24 October 2017

The Ministry of Defence will have to appoint a new contractor for its multi-million-dollar headquarters in Windhoek, which was left half-built by the North Korean firm, Mansudae… Read more »

Namibia: Sacrificing Ourselves for North Korea's Gain

Namibian, 1 September 2017

'IT'S ALL over between Namibia and North Korea', a headline read in July last year after media reports of North Korean involvement in the construction of our military projects, UN… Read more »

Namibia: President Geingob, UN Chief Talk North Korea

New Era, 19 September 2017

President Hage Geingob on Sunday met with UN Secretary-General Antonio Guterres on the sidelines of the General Assembly currently underway in New York, USA and discussed a wide… Read more »
InFocus
Namibia may not have severed relations with North Korea entirely after being accused of violating sanctions placed by the UN, writes Max Weylandt of African Arguments. Read more »