You Can Keep Your Money, Ugandan MPs Tell Parliament
Members of Parliament who are opposed to a constitutional amendment which will remove the age limit for presidential candidates have returned money that MPs were given to fund consultations on the controversial issue with their constituents. The politicians say the money is supposed to be used to address funding gaps in sectors like health and education.
Uganda: Opposition Split On Age Limit Cash

Monitor, 27 October 2017

The opposition in Parliament has expressed divided opinions and disagreement over the Shs29 million meant for consultations on the Age limit amendment Bill. Read more »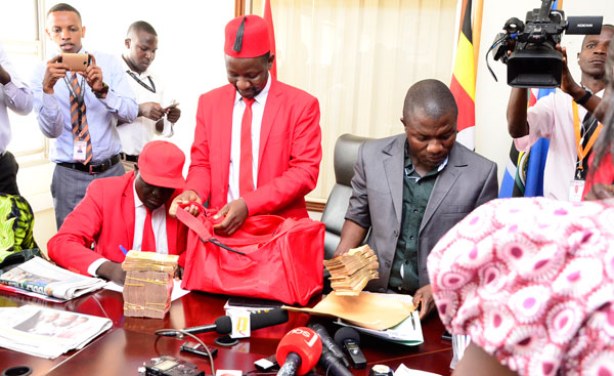 Butambala MP Muwanga Kivumbi, Kira Muncipality MP Semujju Nganda and Busongola North MP William Nzoghu display the money returned to Parliament.
Uganda: Opposition MPs Split Over Age Limit Consultation Cash

Observer, 27 October 2017

Opposition MPs were by Thursday evening still divided on returning Shs 29 million paid to each legislator by parliament to facilitate consultative meetings on the hugely polarising… Read more »

Uganda: MPs Give Age Limit Consultation Money Back to Parliament

Monitor, 25 October 2017

A section of members of Parliament who are opposed to the amendment of the Constitution to remove the age limit for presidential candidates have returned the cash they that was… Read more »

Uganda: Opposition MPs Reject, Return Age Limit 'Bribe'

Observer, 25 October 2017

At least six opposition Members of Parliament have each returned Shs 29 million paid to them by Parliament to facilitate consultative meetings on the age limit bill. Read more »

Uganda: MP Magyezi Sued Over Age Limit Bill

Monitor, 26 October 2017

The mover of a Bill seeking to amend Article 102 (b) from the Constitution, Mr Raphael Magyezi, was yesterday sued before Constitutional Court. Read more »

Uganda: Govt Closes Radio Station Ahead of Age Limit Meeting

Monitor, 25 October 2017

The Uganda Communications Commission (UCC) has closed Radio Kitara in Masindi ahead of Thursday's live coverage of the Masindi District Council which intends to pass a resolution… Read more »

Uganda: Age Limit Debate - Police Ban On Joint Opposition Rallies Illegal

Monitor, 26 October 2017

The Constitution Amendment (No.2) Bill, 2017 that proposes to amend Article 102(b) and remove presidential age limit to free up President Museveni to contest for a sixth elective… Read more »
InFocus
Two MPs have been admitted to a Lira medical centre after after they collapsed when police fired teargas and live bullets to disperse a consultative meeting on the age limit bill. ... Read more »

An amount of U.S.$3,5 million has been released to members of parliament to facilitate consultation with constituents on a proposed amendment to the constitution which seeks to ... Read more »