Ugandan Army Arrests Museveni Critic for 'Impersonating Officers'
The army has paraded Frank Gashumba - businessman and critic of President Yoweri Museveni - in front of the press, confirming his arrest and accusing him of impersonating Ministry of Defence and Veterans Affairs officials with the aim of fleecing investors.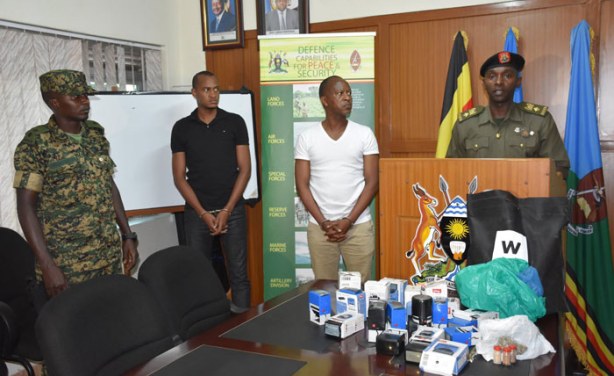 Gashumba (white T-shirt) paraded in front of the press. On the desk are several items like stamps and passports that the army said were used to pursue fraudulent activities.
Uganda: Gashumba's Home Searched By CMI

Observer, 1 November 2017

Flamboyant social critic Frank Gashumba has been detained by the Chieftaincy of Military Intelligence (CMI) on allegations of impersonation. Read more »

Uganda: Army Confirms Franco Gashumba Arrest

Independent (Kampala), 31 October 2017

The army has today paraded Franco Gashumba in front of the press, confirming his arrest and accusing him of impersonating Ministry of Defence and Veterans Affairs (MODVA) officials… Read more »