Teams Formed to Coordinate Kenyan Governor Gakuru's Funeral
ICT Cabinet Secretary Joe Mucheru will lead one of the teams, assisted by a representative from the Council of Governors. Nyeri governor Wahome Gakuru died in a road crash when he was heading to Nairobi for radio and TV talk shows accompanied by his bodyguard and driver.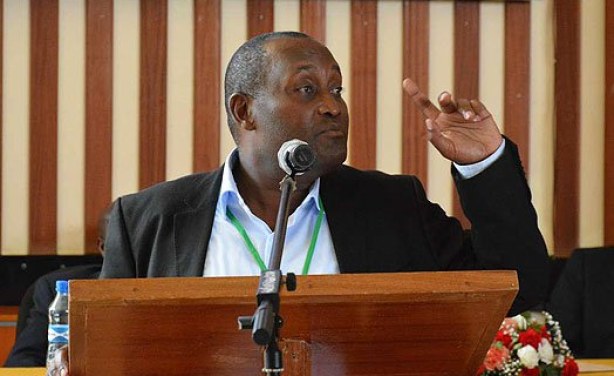 The late Nyeri Governor, Wahome Gakuru.
Kenya: KoT Mourn Nyeri Governor - #RIPWahomeGakuru

Nairobi News, 7 November 2017

Kenyans on Twitter reacted in shock Tuesday morning to the sudden death of Nyeri Governor Dr Wahome Gakuru who died in an accident at Makenji, Muranga County. Read more »

Kenya: Prelim Investigations Show Tyre Burst to Blame for Gakuru Death

Capital FM, 7 November 2017

Preliminary investigations into the grisly road accident that claimed the life of Nyeri Governor Wahome Gakuru have revealed that a tire burst caused the incident. Read more »

Kenya: #RIPWahomeGakuru - Tributes Meet News of Gakuru's Passing

Capital FM, 7 November 2017

Leaders from across the political divide have mourned the death of Nyeri Governor Wahome Gakuru in a grisly road accident on the Thika-Murang'a Highway. Read more »

Kenya: Five Things to Know About Nyeri Governor Wahome Gakuru

Nairobi News, 7 November 2017

The death of Nyeri governor Dr Wahome Gakuru in a grisly accident in Murang'a has baffled many Kenyans. Read more »

Kenya: Gakuru's Driver Swerved to Spare Reckless Boda Boda Rider's Life - Witness

Nairobi News, 7 November 2017

A man who witnessed the freak accident that claimed Nyeri Governor Wahome Gakuru's life says his driver lost control after getting distracted by a boda boda that was carrying meat. Read more »

Kenya: ICT CS to Lead Governor Gakuru's Burial Arrangements

Capital FM, 7 November 2017

ICT Cabinet Secretary Joe Mucheru will represent the Government in organizing funeral arrangements for Nyeri Governor, the late Dr Wahome Gakuru, alongside his relatives and other… Read more »

Kenya: Senators Eulogize Gakuru as an Industrious Man

Capital FM, 7 November 2017

Senators have eulogized the late Nyeri Governor Gakuru Wahome as a man who was diligent, principled and as a man who would have spearheaded development in Nyeri County. Read more »

Kenya: President Kenyatta, Kibaki Remember Gakuru as a Visionary

Capital FM, 7 November 2017

President Uhuru Kenyatta has described the late Nyeri Governor Wahome Gakuru as a visionary and tireless leader who was committed to bringing change to county residents. Read more »

Kenya: President Kenyatta Mourns Governor Gakuru

Nation, 7 November 2017

President Uhuru Kenyatta and some governors have given statements following the death of Nyeri Governor Wahome Gakuru. Read more »
InFocus
Members of Parliament from across the political divide have sent their condolences to the family of Nyeri Governor Wahome Gakuru who died in a road accident. Legislators also ... Read more »