AU Forces Begins Withdrawal Process From Somalia
Head of the AU mission, Franscisco Madeira, says it will hand over security matters to the army and police after ten years since it first entered the country.
Somalia: AMISOM Withdrawal Tests U.S. Mission

Shabelle, 10 November 2017

Troops under the African Union Mission in Somalia, or AMISOM, have begun a steady withdrawal of forces from the region, amid increasing violence and threats from resurgent Al… Read more »

Somalia: Amisom to Withdraw 1000 Troops in 2017

Dalsan Radio, 7 November 2017

The African Union peace keeping forces in Somalia Amisom is expected to reduce up to to 1000 troops by 31st December, Radio Dalsan reports. Read more »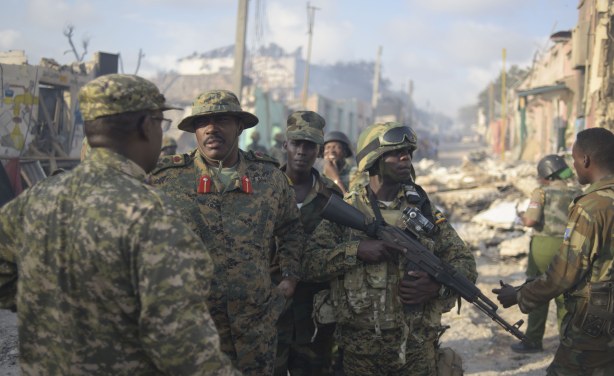 African Union troops in Somalia.
Somalia: Govt's 'Support' for Al-Shabaab Unprovable, UN Experts Want Sanctions Lifted

Shabelle, 10 November 2017

Eritrea's alleged support for Somalia-based insurgent group Al-Shabaab cannot be proved according to a report by a United Nations team of experts. Read more »

Somalia: U.S Ramps Up Military Strikes in Somalia

IRIN, 6 November 2017

When Ali Osman Diblawe arrived in Bariire town he was barefoot and winded. He had sprinted the 2.5 kilometres from his farm to the southern Somali town after hearing a barrage of… Read more »

Somalia: U.S. Ramps Up Military Strikes in Somalia

IRIN, 8 November 2017

Human rights groups concerned there will be a rise in civilian casualties Read more »

Somalia: Twelve Policemen Killed in Islamist Attack in Kenya

Shabelle, 8 November 2017

A Kenyan security person walk past a police vehicle damaged by a blast killing Kenyan police officers at the Garissa county, eastern Kenya, May 24, 2017. REUTERS/Stringer Read more »

Somalia: Al-Shabaab Executes for Accused of Spying for Amisom

Nation, 7 November 2017

Somali militants Al-Shabaab have executed four men for allegedly engaging in espionage against the group. Read more »

Somalia: AMISOM to Begin Troop Withdrawal From Next December

Shabelle, 7 November 2017

The African Union says it has begun its withdrawal from Somalia and will cut 1,000 troops by the end of this year as security responsibilities start to shift to the local military. Read more »