ANC Conference Likely to Collapse - Former South African Minister
Speaking at the Eric Molobi lecture at the University of Johannesburg, former finance minister Trevor Manuel referenced an allegation in Jacqes Pauw's book The President's Keepers where claims emerged during the ANC's 53rd elected conference in Mangaung that crime intelligence boss and alleged Zuma ally Colonel Nkosana "Killer" Ximba, had used over R2 million of taxpayers' money to "grease the wheels".
South Africa: New Threat to ANC December Conference Emerges

Daily Maverick, 13 November 2017

Fierce debates raged in the ANC's national executive committee meeting over the weekend as the camps supporting ANC MP Nkosazana Dlamini Zuma and Deputy President Cyril Ramaphosa… Read more »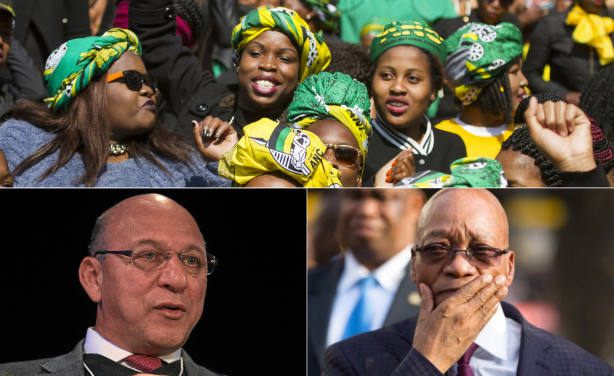 Top: ANC supporters. Bottom-left: Former finance minister Trevor Manuel. Bottom-right: President Jacob Zuma.
Video
Publisher:

Publication Date:

10 November 2017

ANC Gauteng Chairperson Paul Mashatile says the ANC could lose its majority in 2019 elections. Mashatile says there are potential parties which the ... see more »
InFocus
The President's Keepers by author and investigative journalist Jacques Pauw has reached ninth place on online retailer Amazon's bestsellers' list despite circulation of a pirated ... Read more »

Former intelligence minister Ronnie Kasrils has said he warned former leader Nelson Mandela against President Jacob Zuma during the launch of his book A Simple Man: Kasrils and the ... Read more »

President Jacob Zuma addressed the National Council of Provinces about "trying economic times" and the much-talked-about book by veteran journalist Jacques Pauw, The President's ... Read more »