Secession Talk in Kenya Draws Western Attention
Opposition legislators say secession will enable the Western region, which was formally under the rule of the Sultan of Zanzibar, to govern itself for the good of Coast residents who have remained "marginalised" since Independence. The secession talk was triggered by a National Super Alliance adviser David Ndii who wrote an article on a possible political divorce in a widely circulated article - Kenya is a Cruel Marriage, Let's Talk Divorce, according to John Kamau for The Nation.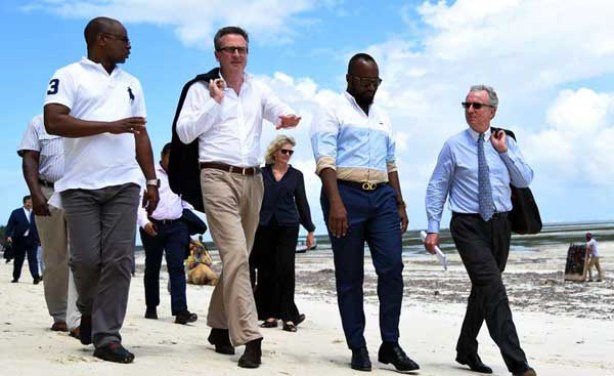 From left: Kilifi Governor Amason Kingi, British High Commissioner Nic Hailey, Mombasa Governor Hassan Joho and French Ambassador Antoine Sivan walk on the beach after a meeting on November 6, 2017.
Kenya: Joho, Kingi Push on With Secession Calls Despite Protests

Nation, 6 November 2017

The United Kingdom and the European Union have opposed secession calls spearheaded by two Coast governors and 16 lawmakers. Read more »

Kenya: Secession Is Dangerous and Costly, Coast Leaders Told

Nation, 5 November 2017

The push for secession of the Coast will have negative consequences, two leaders have said. Read more »

Kenya: Why Secession Is Frowned Upon By International Community

Nation, 4 November 2017

Talk of secession in some parts of the country has gained traction after leaders from the Coast on Friday said they had started taking legal steps towards splitting the region from… Read more »

Kenya: Could Parts of Kenya Really Secede?

ISS, 3 November 2017

Kenya is experiencing its worst political crisis in more than a decade, prompting some politicians to suggest extreme solutions - including the division of Kenya into two… Read more »

Kenya: Calls for Coast Secession Not Linked to MRC - MP Owen Baya

Nation, 24 October 2017

Kilifi North MP Owen Baya on Tuesday said his call for secession is not related to the views of the Mombasa Republican Council (MRC). Read more »

Kenya: ODM Legislators Threaten to Push for Coast Secession If IEBC Holds October 26 Polls

Nation, 20 October 2017

Kilifi Governor Amason Kingi and six Coast Opposition legislators have said they will push for secession of the Coast region if the electoral agency insists on holding the October… Read more »

Kenya: Raila Odinga Opens Up on Secession Debate

Nation, 19 October 2017

Opposition leader Raila Odinga has, for the first time, come out and talked about the secession debate. Read more »

Kenya: Western Kenya Secession Bid Moves to the High Court

Nation, 18 September 2017

The agitation for parts of Kenya to secede has moved to the High Court with two residents filing a petition seeking the autonomy of western Kenya. Read more »
InFocus
National Super Alliance leader, Raila Odinga, has voiced an anger that has been swirling in Kisumu over the perceived manipulation of the institutions of the state by President ... Read more »