South African Health Dept to Face Legal Action for Child's Death?
The parents of five-year-old Michael Komape, who died after he fell into a pit toilet in January 2014, have said that they are suing the Health Department for U.S.$210,000 (R3 million).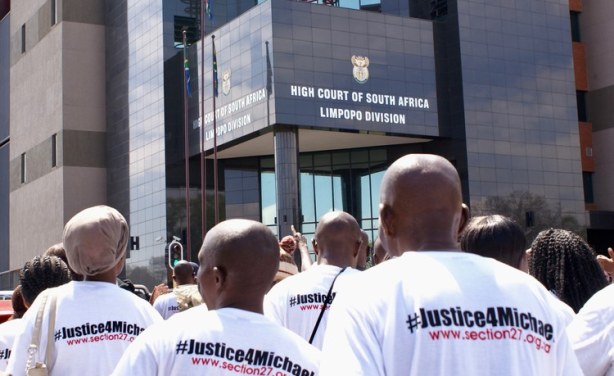 People protesting outside the High Court in Polokwane in support of the Komape family.
South Africa: 'It Still Hurts Me,' Says Father of Boy Who Drowned in School's Pit Toilet

News24Wire, 14 November 2017

The father of a Limpopo learner, Michael Komape, on Tuesday testified in court how his friend was allegedly pressured to erase photos that were taken of the pit toilet that his son… Read more »

South Africa: Mother Tells Court How She Found Her Son Dead in School Toilet

GroundUp, 13 November 2017

The Chebeng community turned out in force at the Limpopo High Court for the first day of the damages trial being brought against the state by the family of Michael Komape. Michael… Read more »

South Africa: No Apology From Department for Death of Boy Who Drowned in Pit Toilet

News24Wire, 14 November 2017

Rosina Komape, the mother of Michael Komape, who was 5 years old when he died after falling into a pit toilet in 2014, has to this day had no apology or assistance from the… Read more »

South Africa: Parents of Michael Komape Seeks Justice

GroundUp, 12 November 2017

Michael drowned in a toilet at his school. Now James and Rosina Komape are going to court to compel the state to provide decent sanitation to schools across Limpopo. Read more »