Budding South African Violinists Enjoy 'African Beats'
An outreach program on the campus of non-profit organisation Masiphumelele Corporation teaches children how to master the violin so that they can play at functions like weddings or in public spaces.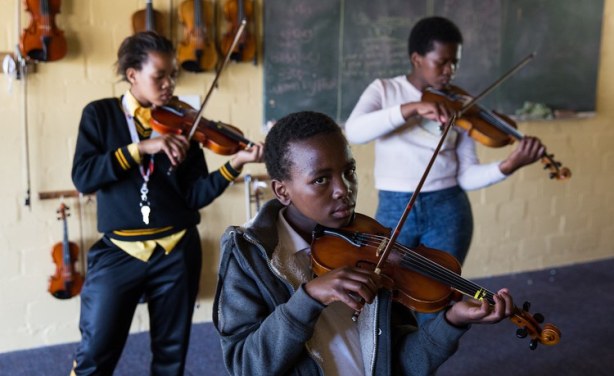 In a small classroom, learners from Masiphumelele near Cape Town are learning a new skill: playing the violin. Ashraf Hendricks of GroundUp presents this photo essay.
Video
Publisher:

Publication Date:

17 November 2017

Youth from Masiphumelele jam out to Glenn Miller's "In the Mood". The students are part of an outreach program run by Titia Blake see more »
The program has now been running for six years and has about 30 students. Blake's own band is called the Palm Strings. She calls the younger students "The Palm Stringlets". Violins, performance posters and music pictures line the walls of the classroom.