Zimbabwe Poised to Swear in First New Leader Since 1980
Former vice president Emmerson Mnangagwa, whose sacking by Robert Mugabe triggered the country's political crisis, is expected to be sworn in to replace Robert Mugabe as president later this week. Mnangagwa fled for his safety when he was fired by Mugabe, leading to a military intervention that culminated in the resignation of the 93-year-old leader.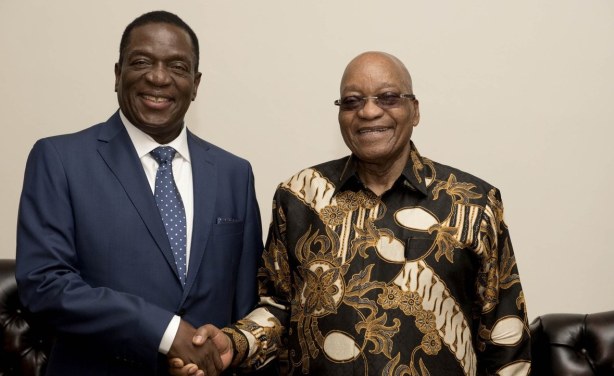 Zimbabwe's incoming leader Emmerson Mnangagwa paid a courtesy call on President Jacob Zuma before heading back to Harare, Zimbabwe today, 22 November 2017.
Zimbabwe: Goodbye Mugabe, Hello New Zimbabwe?

IPS, 21 November 2017

Robert Mugabe - the world's oldest head of state - is dead, politically at least. Read more »

Zimbabwe: U.S. Seeks 'Genuine Transition'

VOA, 22 November 2017

The United States is urging Zimbabwean leaders to move the country towards a "genuine transition" and allow political space for the country's opposition and its people… Read more »

Zimbabwe: What Happens After Mugabe's Resignation?

News24Wire, 22 November 2017

While Zimbabweans take to the street to celebrate the end of Robert Mugabe's 37-year rule and usher in a new era, questions still remain about how a new leader will be chosen and… Read more »

Zimbabwe: Address Gukurahundi Atrocities, Mnangagwa Told

New Zimbabwe, 22 November 2017

Incoming President Emmerson Mnangagwa should urgently address the Gukurahundi atrocities, a Bulawayo-based lobby group has said. Read more »

Southern Africa: SADC Mission to Zimbabwe Cancelled

ANGOP, 22 November 2017

The presidents of Angola, João Lourenço, and South Africa, Jacob Zuma, will no more travel this Wednesday to Zimbabwe to help resolve the political deadlock, due to… Read more »

Zimbabwe: Moyo and Kasukuwere Lament End of Mugabe Reign

New Zimbabwe, 22 November 2017

The G40 leaders, higher education minister Jonathan Moyo and local government counterpart Saviour Kasukuwere, have backed the now former President Robert Mugabe, describing him as… Read more »