Ugandan Journalists to be Charged with Treason
Eight Red Pepper journalists who were arrested on Tuesday are to be charged with treason, an offence punishable by death. It has been reported that the arrests were made in relation to a story which ran on November 20 about a plot to overthrow Rwanda's president Paul Kagame.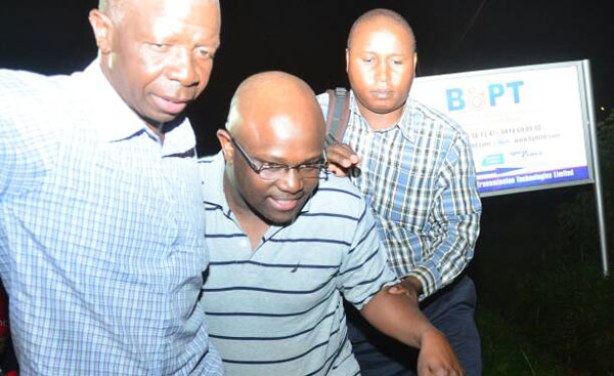 Red Pepper's Chief Commercial Officer James Mujuni, centre, being dragged by security operatives on Tuesday November 21, 2017.
Uganda: Uganda Paper Directors and Journalists Charged With Treason

East African, 23 November 2017

Five directors and three editors of Uganda's Pepper Publications Group have been charged with treason, offensive communication and disturbing the peace of President Yoweri… Read more »

Uganda: Police Arrest Top Newspaper Staff Over Museveni Article

East African, 22 November 2017

Uganda police is yet to prefer charges against senior staff of the Red Pepper, a leading daily tabloid, a day after arrest by officers who raided and cordoned off their office in… Read more »

Uganda: Police Raid Red Pepper

Observer, 22 November 2017

An unknown number of counter-terrorism unit (CTU) police officers yesterday evening besieged the main office of Red Pepper Publications Limited in Namanve, Mukono district. Read more »

Uganda: Monitor, Red Pepper Editors Appear At CID Over Age Limit Budget Story

Monitor, 16 October 2017

Daily Monitor and Red Pepper editors have appeared at the Criminal Investigations Directorate (CID) for questioning over age limit budget story. Read more »

Uganda: German Africa Prize Winner - 'There Are Grave Rights Violations in Uganda'

Deutsche Welle, 23 November 2017

Ugandan lawyer Nicholas Opiyo talked to DW about the deteriorating human rights situation in Uganda and the intimidation and harassment he, and other activists, face in their… Read more »
InFocus
The Red Pepper newspaper editor has been interrogated by detectives on charges of offensive communication in stories about the Inspector General of Police General Kale ... Read more »