Kenya Taxpayers to Pay Millions For Kenyatta's Inauguration
Chief of Staff in the Office of the President Joseph Kinyua has termed the budget for President Uhuru Kenyatta's swearing-in on November 28 as modest and "only adequate". Over 20 heads of state have confirmed their attendance.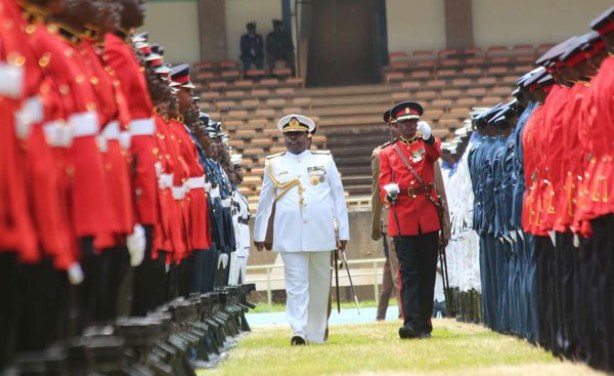 Chief of Defence Forces Samson Mwathethe inspects a guard of honour as the military prepares for the swearing-in of Uhuru Kenyatta at Kasarani on November 22, 2017.
Kenya: County Officials Step Up Security Ahead of Inauguration

Nation, 24 November 2017

Security chiefs from Kisumu, Kericho and Nandi counties have joined forces to ensure peace and security before and after the swearing-in of President Uhuru Kenyatta on Tuesday. Read more »

Kenya: Uhuru Kenyatta Invites Raila Odinga to His Swearing-in Party

Nation, 24 November 2017

President Uhuru Kenyatta has invited his "brother" and arch-rival Raila Odinga to his inauguration on Tuesday, November 28, at the Moi International Sports Centre, Kasarani. Read more »

Kenya: Benjamin Netanyahu to Attend Uhuru Kenyatta's Swearing-in

Nation, 24 November 2017

Israel Prime Minister Benjamin Netanyahu will be among the 20 heads of state who will be attending President Uhuru Kenyatta's swearing-in on Tuesday. Read more »

Kenya: UK Cautions Its Citizens Travelling to Kenya During Kenyatta's Inauguration

Nairobi News, 24 November 2017

United Kingdom on Thursday issued a travel advisory to its citizens traveling to Kenya next week. Read more »

Kenya: Govt Denies Soliciting Kenyatta Congratulatory Messages

Nation, 23 November 2017

The government has refuted claims that it has been soliciting for congratulatory messages from foreign countries after the Supreme Court upheld the re-election of President Uhuru… Read more »

Kenya: Over 20 Heads of State Expected to Attend Kenyatta's Swearing-in Ceremony

Capital FM, 23 November 2017

Over 20 Heads of State have confirmed their attendance in next week's President Uhuru Kenyatta's swearing-in ceremony at Moi International Sports Centre, Kasarani Stadium. Read more »
InFocus
Some National Super Alliance leaders have indicated that Raila Odinga will take the oath of office as the alliance maintains its stand that it will not recognise and respect Uhuru ... Read more »

Financial Times has allegedly reported that Foreign Affairs Cabinet Secretary Amina Mohammed has asked her UK counterpart Boris Johnson to recognise the re-election of President ... Read more »

Close to 100,000 visitors are reportedly expected to attend the swearing-in ceremony of President Uhuru Kenyatta on November 28. Initial plans after the August 8 election were ... Read more »